UVM Black student enrollment drops 16.2%
Enrollment of Black students at UVM dropped by 16.2% from fall 2020 to fall 2021, according to the Office of Institutional Research's Catamount Data.
One hundred eighty-six Black students enrolled in fall 2021, down from 222 in fall 2020, according to Catamount Data. This 16.2% change is the steepest drop the University has seen in the last 10 years.
The next largest drop for Black student enrollment occurred between fall 2012 to fall 2013, falling 10.9% from 184 students to 164, according to Catamount Data.
"It came as somewhat of a surprise last year that our enrollment numbers dropped like that," said Jay Jacobs, vice provost for enrollment management.
However, senior Koleigh Vachereau, who identifies as half Black and half white, said the drop in Black student enrollment is not surprising, considering what the experience of being Black on campus is like.
"It's constantly feeling like an outsider and knowing your community is so small," Vachereau said. "Black [students say] 'don't come here, it's not worth it.'"
Both Burlington and Vermont are overwhelmingly white, fostering an environment where Black individuals often find themselves to be the only Black person in a space, Vachereau said.
Many Black students choose to go to historically Black colleges, said first-year Naia Watkins, who identifies as Black.
"Predominantly white institutions are not built for people of color," Watkins said. "They have systems in place to help [students of color], but they're not built for them."
The lack of representation at UVM is a significant shortcoming, Watkins said.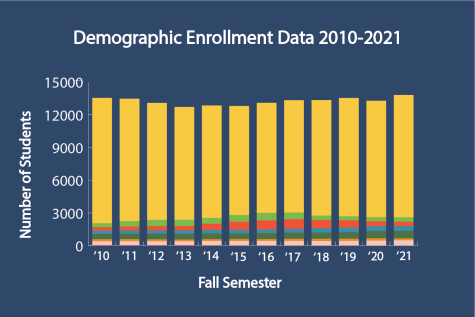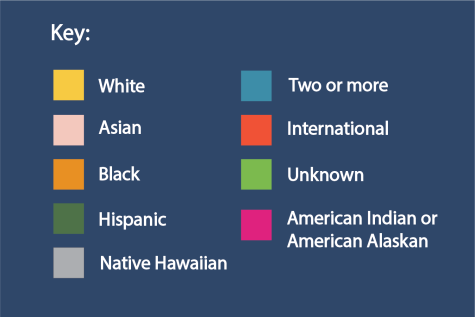 "It's so important for students to have teachers that look like them and can share the same experiences as them," Watkins said. "I can tell me and my teachers have lived very different lives […] it makes it a little bit harder to connect."
This decline in Black student enrollment at UVM likely resulted from impacts of COVID-19, Jacobs said.
Research shows COVID-19  disproportionately impacted people of color. Nationally, many high schools with higher percentages of students of color had more virtual instruction than in-person, Jacobs said.
This may have caused students to miss out on traditional college application support and guidance, he said.
Even without the complications of the pandemic, UVM has several barriers dissuading students of color from enrolling, Jacobs said.
"Every institution has a goal of increasing diversity [and students of color] are admitted to many great places and therefore have a lot of competitive offers to choose from," Jacobs said. "Being an expensive public flagship, we have an uphill battle to climb."
Still, this year's decline is not indicative of larger trends of Black student enrollment at UVM, Jacobs said.
"Looking at a one-year trend is [not] the most informative," Jacobs said. "If you look over the past 10 years, Black enrollment has experienced a natural fluctuation."
The drop interrupted a five-year increasing trend starting in fall 2016, rising from 169 students to 222 in those years, according to Catamount Data.
Increasing diversity within student populations is one of the top institutional goals within the Division of Enrollment Management, as well as a University-wide priority, Jacobs said.
"We want to provide all students, regardless of how they identify, a diverse community on campus," Jacobs said. "It is the best thing for our students in terms of development."
Over the next five years, the Division of Student Enrollment wants to increase the current 11% student of color population to 16%, Jacobs said. This number is based off of benchmarks from similar New England public flagships.
Jacobs said their plans to increase recruiting include programs such as Discovering UVM, a program for prospective students from traditionally underserved populations, according to their website.
UVM plans to increase partnerships with high schools that have significant student of color populations, as well as distributing financial aid and scholarships, Jacobs said.
The Division of Enrollment Management advertises a vibrant community of students of color at UVM, by highlighting campus resources, such as the Mosaic Center for Students of Color, as well as having a diverse admissions and tour guide staff, Jacobs said.
A principal focus of UVM's Division of Diversity, Equity and Inclusion includes increasing Black staff and faculty, said Amer Ahmed, vice provost for diversity, equity and inclusion.
"There's a desire, usually, to find people that connect in some way, shape or form to their experience prior to coming," Ahmed said. "Finding those people is what creates a foundation for people to feel a level of comfort, support and ease that can unlock potential."
The DEI dedicates a lot of energy to improving campus culture and creating initiatives based on feedback that will come from this year's Campus Climate Survey, Ahmed said.
This will translate into increased Black student enrollment, Ahmed said.
The issue of Black identity goes beyond representation, said Phd candidate Alexander Daniels, who identifies as Black and Latinx.
"It's not so much that I'm looking to see other Black people or other people of color necessarily," Daniels said. "It's about a certain climate. What I've found is most people are very scared about matters of race, in a superficially liberal slash progressive environment."
Improving individual culture that directly affects students will be a significant step towards addressing diversity, Daniels said.
"It's about setting the stage," Daniels said. "If we create an environment where students can thrive no matter what their background is […] then we will see diversity."     
About the Contributor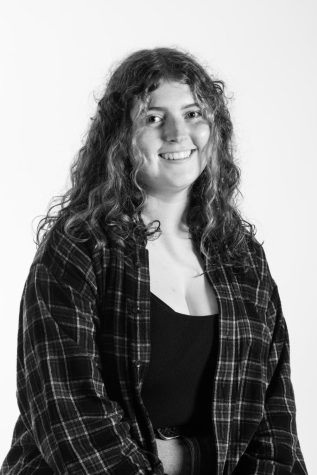 Halsey McLaen, News Editor
(She/they) Halsey McLaen is a junior from Groton, Connecticut, majoring in environmental sciences with a minor in reporting and documentary storytelling....