UVM cannabis consumption reaches a new high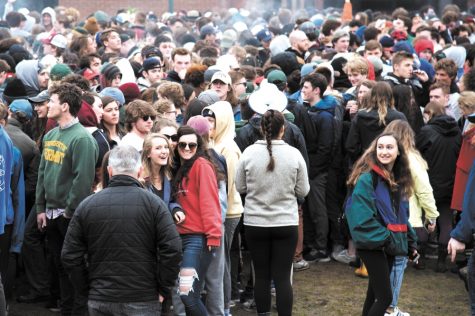 UVM has been ranked the top school in the nation for cannabis consumption, according to the latest rankings from the Princeton Review.
Also in the top five were the University of Rhode Island, Wesleyan University and Skidmore College, according to an August 9 VTDigger article. 
Every year, the Princeton Review surveys students at colleges across the country to organize rankings on everything from academics to party culture, according to the article. 
One factor behind UVM's high ranking on this list is its location.
UVM and the other colleges and universities that ranking in the top five on the list are located in states where cannabis is, or will soon be, legalized. 
Last year, Vermont lawmakers passed legislation to legalize personal possession of an ounce of cannabis and the cultivation of two plants for those over 21, according to VTDigger. 
Cannabis for recreational use has a long tradition at UVM. 
UVM has long been known for its 4/20 celebration, in which students gather to smoke cannabis every year at 4:20 p.m. April 20 on Redstone Campus.
4/20 has been documented by national college Instagram account Barstool Sports, as well as Barstool UVM, which chronicles campus culture but is not affiliated with the University. 
Cannabis is technically illegal at UVM, though legal in the state of Vermont. 
Because UVM is a state university that receives federal funding and cannabis is not legal under federal law, UVM has an obligation to obey federal laws over state ones, according to an April 23 Cynic article. 
This makes the issue of cannabis on campus a complicated one. 
UVM administration has dealt with this issue by not sanctioning 4/20 as a University-sponsored event and by sending UVM Police to the event to distribute citations for smoking cannabis in public. 
For the past four years, the Wellness Environment has hosted a 4/20 5K for Wellness to provide an alternative activity to the tradition on Redstone Campus, according to an April 26 Cynic article. 
Whether this ranking will change the University's policy toward cannabis remains to be seen.