UVM lecturer withholds information about press conference to keep certain message intact
Senior lecturer Richard Watts said he withheld a press release about a press conference Wednesday from stakeholders until the morning of to prevent potential event coverage from diversifying in voices. 
Watts said it's fair to say he wanted to minimize dissent at the event for the sake of the way potential news coverage would turn out. The event was a Sept. 8 press conference discussing traffic safety at the intersection on Main Street by University Heights. 
Although Watts said the delayed and limited notice of the event was justified in this instance, he also oversees student journalists as co-director of the reporting and documentary storytelling minor at UVM and is the coordinator of the RDS Community News Service. 
Ethics in journalism include avoiding conflicts of interest, not deliberately distorting facts or context and supporting open and civil exchanges of views, according to the Society of Professional Journalists Code of Ethics. 
"Nothing that I do is perfect," Watts said. 
Student interns for Sustainable Transportation Vermont spoke at the Sept. 8 event to bring attention to the dangers of the area, designated a "High Crash Location," and a top priority in city and UVM planning, with nothing significant being done to address it, according to the Sept. 8 press release. 
Watts said he advised interns to inform people of the event in a certain sequence – first informing student leaders, then other stakeholders. He said he didn't want a whole lot of people present, but informed some as a courtesy. 
SGA President Sam Pasqualoni said he wasn't notified very far in advance of the event. 
"Nothing really firsthand prevented me from going," Pasqualoni said. "If my organization has done something which caused the opinion to be made that we should not be in a space, then I would like to be able to rectify that in some way or another."
Watts said he was concerned that if many people knew about the event in advance, a University official might say they had the situation under control and that it was being addressed. 
"And then suddenly the story becomes a little bit like 'the University says this, students say this,' and you lose track of the safety of this crossing, and the reason that the students are there," he said. "You want to keep the focus on you and on this, you don't want to invite external stakeholders who might confuse it – until the last minute."  
However, Watts said there is a distinction between what he does for the Community News Service, which is marketing, and what Cory Dawson does, as the editor and facilitator of student news writers. Watts said given his role, he does not have influence over this ethical inquiry. 
"In a newsroom, you might have the advertising and business side, and then you'd have the news side," Watts said. "I'm this person on the advertising business side. I'm never the news person, all the news decisions for Community News Service are made by Cory." 
Dawson stated in a Sept. 10 email that Watts deliberately doesn't involve Dawson in his advocacy work out of respect for the Community News Service's editorial independence. 
"I've always found him to be a defender of a free press," Dawson's email stated. "Richard wears a lot of hats […] If you're calling into question the fact that he co-directs the RDS program, and also does press conferences about issues [he] thinks are important, I'm personally fine with it." 
Watts said he does not teach any RDS classes to student journalists. Still, he oversees RDS students and the Community News Service with his own inclinations towards marketing. 
Outside of Watts' work with RDS and the Community News Service, he is also the co-coordinator of the College of Arts and Sciences internships. 
About the Writer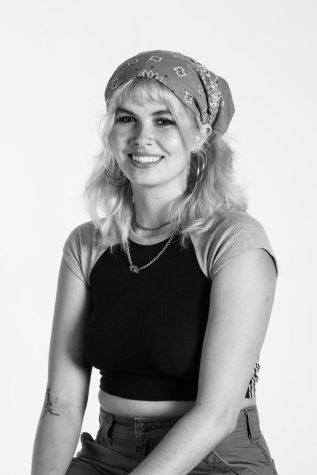 Ella Ruehsen, Editor-in-Chief
​(She/her) Ella Ruehsen is a senior environmental studies major with minors in political science and reporting and documentary storytelling. Before becoming...