UVM moves to invest millions more in sustainability projects
UVM's vice president of finance has agreed to double the amount of cash UVM has invested in environmentally friendly bonds at the SGA president's request.
Richard Cate, UVM treasurer and vice president of finance, will increase UVM's investments in green bonds from $10 million to $20 million.
Cate agreed to this increase at a meeting with SGA President Jillian Scannell and other SGA members, Oct. 9.
This decision follows ongoing concerns from students over the $27 million of UVM's endowment which is invested in fossil fuels.
Green bonds are investments in sustainable projects, including international solar or wind power projects, Cate said. They can also be invested in companies that have exhibited environmentally friendly behavior, he said.
"Students want divestment, and the administration knows that," Scannell said. "Divestment is determined by the board [of trustees], so I feel like this is the administration's effort to say, 'We hear you, and we're trying to be responsive to your call.'"
The now $20 million invested in green bonds is part of UVM's $200 million of cash, which the administration controls.
This is a separate pool of money from UVM's over $500 million endowment controlled by the board of trustees, which has $27 million invested in fossil fuels.
None of UVM's $200 million of cash is invested in fossil fuels, Cate said.
"I don't want to minimize peoples' concerns about fossil fuels and the endowment," Cate said. "But I believe in investing this $20 million proactively in green bonds rather than divesting because if we divest, somebody else is just going to buy those fossil fuel stocks."
Junior Elizabeth Mackin, a UVM Eco-Rep, does not believe that the green bond investments are better than divestment.
"I think that the green bonds are important but I also think divestment is important," she said. "UVM's reputation as a green and sustainable leader, and UVM investing $27 million in fossil fuels are two things that are just not compatible with each other."
Sophomore Sarah Sciortino, a leader of Organize, a group that has led the divestment movement at UVM, said that divestment needs to remain a priority for the board of trustees and the administration.
"You can invest as much as you want in green bonds, but if we have money in the fossil fuel industry, it kind of cancels that out," Sciortino said.
Although Cate has moved the money, it could take months for the $10 million to actually become invested in green bonds, he said.
"That's just the way it is," Scannell said. "It does take a while for that $10 million to move over, but it is happening. It's just a slow process."
UVM transferred the original $10 million into green bonds in 2017 after a recommendation from the Socially Responsible Investing Advisory Council, which advises UVM on its investments.
Scannell and Cate are also working on other sustainability issues, like rebranding the Clean Energy Fund and updating UVM's climate action plan.
The Clean Energy Fund, created in 2008, is a pool of money that goes towards student-generated projects for improving UVM's energy use. The CEF is funded by a $10 student fee per semester included in their tuition.
Scannell wants to change the criteria for projects that can receive funding from the CEF to include many kinds of sustainability projects, not just ones relating to energy, she said.
Scannell and Cate have also discussed increasing the number of students on the committee that decides which project proposals will receive Clean Energy funding.
"Things have evolved and we need to evolve the fund with it," Scannell said. "So [Cate] got on board, and he gave me the charter to look and see what I want to change. We're going to rebrand the whole clean energy fund."
Leave a Comment
About the Writer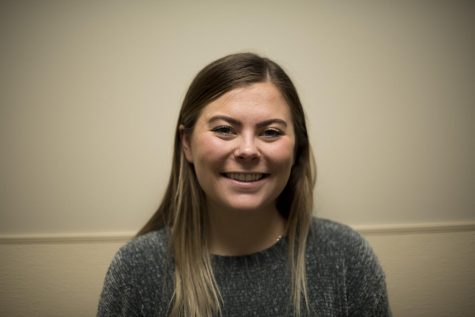 Emma Pinezich, News and Sports Editor
Emma Pinezich is a senior Political Science and French double major from New York. She started working for the Cynic as an illustrator in her first year...