UVM students and community members cast mayoral ballots in Ward 1
UVM students and Burlington community members arrived at the Ward 1 voting location, Mater Christi School, to cast their vote on the 2021 Burlington mayoral election. 
On the ballot for mayor are Democratic incumbent Miro Weinberger, Progressive Max Tracy, Independents Haik Bedrosian, Ali Dieng, Will Emmons, Kevin McGrath and Patrick White.
The Cynic spoke to students and community members to hear their opinions about the candidates and who they were casting their vote for.
Here's what they had to say about why they voted and their experience deciding how to vote: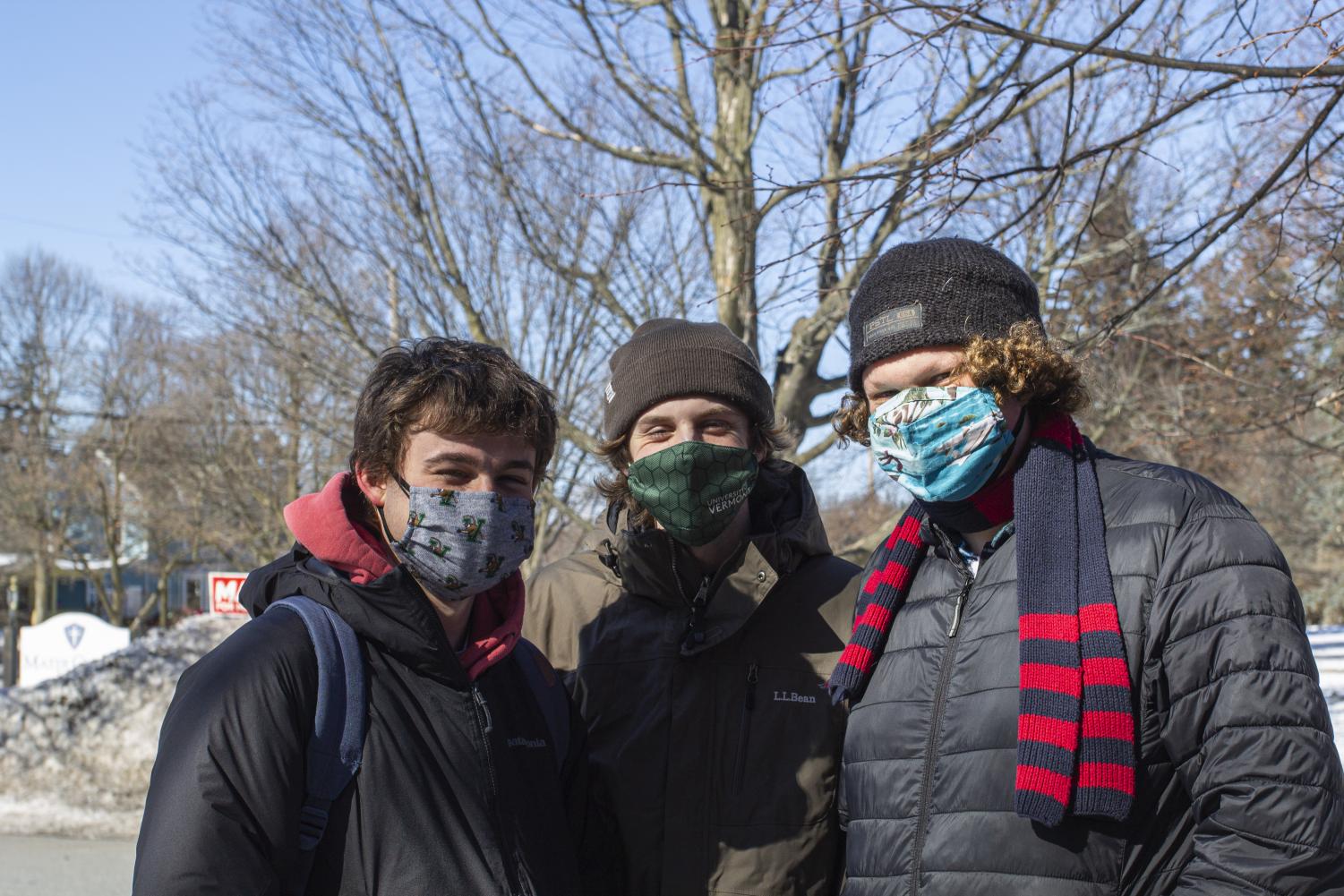 Sophomores Schuyler Rowan, Ian Mchugh and Ben Fischer
Sophomores Schuyler Rowan, Ian Mchugh and Ben Fischer arrived at Ward 1 together to vote for Progressive mayoral candidate Max Tracy.
The three students cracked jokes about the election but ultimately shared similar political beliefs.
"Miro in general just doesn't seem like that fun of a guy," Rowan said.
Fischer and Mchugh laughed and nodded in agreement, adding that they were excited about Tracy's housing and police policies.
"I didn't like Miro's handling of the police," Fischer said. "I'd rather have community control of the police."
The students said that they didn't care what party the candidates were running under, as long as their policies were sound.
"I think Max's policies and what he is pushing for is really good. So even if he was running as a conservative, that would be fine," Fischer said.
As far as the ballot questions, Fischer said he was "pretty excited about the one about weed."
Ballot question 6 proposes the authorization of recreational cannabis sales in Burlington, which would permit the operation of cannabis retailers. 
Adela Miller, UVM Senior
Senior Adela Miller stopped by Ward 1 to drop off her ballot, voting for Max Tracy for mayor on her way to the climbing gym. 
Miller said she frequently discusses politics with her friends, and that she has spent a lot of time researching the candidates and issues on the ballot.
"A lot of my friends are very politically engaged," she said. "We have a lot of conversations about how we can best make decisions that benefit us but also the greater Burlington community."
When she researches political issues, Miller said she especially focuses on how to best support her BIPOC peers and neighbors.
The ballot question, about just cause eviction, was an issue that Miler said she researched in depth. She said she heard valid arguments on both the pro and con sides of the issue, which made her decision difficult.
"I ended up voting yes on the question to try to take some of the power away from the Burlington landlords," Miller said.
If approved, the just cause eviction proposal would provide legal protections for residential tenants from being evicted from their residences and limit unreasonable rent increases.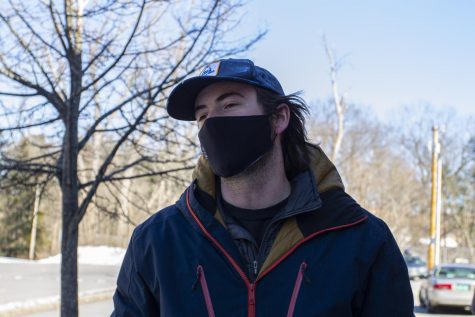 Nick Miller, UVM Senior
Although he'll be leaving Burlington in a few months, UVM Senior Nick Miller endured the cold Vermont weather to get out and vote in the local mayoral election.
Miller's last vote in the Queen's city election went to Max Tracy for mayor.
After attending Progressive Party meetings remotely, Miller believed that the viewpoints shared during these meetings matched his the most, especially topics that dealt with the social justice platform as well as workers' rights and focusing on renters' rights.
Miller also shared his concerns about Weinberger and said he did not like the dismissive behavior the mayor took on issues like the Black Lives Matter movement and policing.
Miller believes students should participate in a local election like this because the students enrolled at UVM make up a large portion of the community. 
"In any college town like this, [the students] make up a huge amount of the talent and if younger people…have a voting block to exercise, it's important to use it," Miller said. "If you can help someone's life, then do it."
Although Miller is in his final year as a student at UVM, he wants to leave his community in "good hands" and feels as though students no matter their age should go out and vote for what they believe in.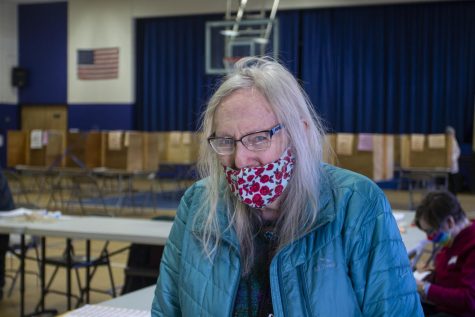 Sue Alenick
Ward 1 Clerk Sue Alenick is a seasoned poll worker who's been serving the Burlington community for nearly two decades. 
Alenick said she was disappointed by the turnout of the election and that she expected more people to come later in the day.
The low turnout, she reasoned, may be attributed to the cold weather. "I think somebody said that people are waiting until the afternoon to vote when it warms up," Alenick said. 
In addition, she said many of Burlington's constituents opted to vote absentee rather than in person.
Alenick said that the low numbers didn't surprise her, although there was a high turnout for the 2020 presidential election.
"Generally, the March election is not like the national elections, which is too bad because it's just as important," Alenick said.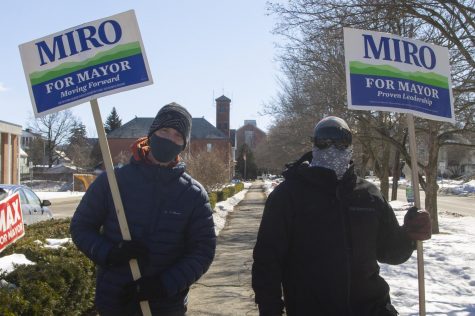 Kevin Warden
Bundled up in a hat and gloves, ex-City Council member Kevin Warden arrived at Ward 1 with a sign endorsing incumbent Democrat Miro Weinberger for mayor. 
He said he was enduring the cold because he felt that Weinberger was the best candidate to run the city that he loves. 
"Miro has proven that he is capable of turning great ideas into reality and putting them into practice," Warden said. "The way he's handled COVID has been really consistent and thoughtful."
He said he was also impressed by Weinberger's reaction to the Black Lives Matter movement.
"He's really taken a thoughtful approach at planning for a change in the police force, which needs to happen," Warden said.
Warden said his past as a city councilor empowered him to take regular action in local elections, where he believes the most change can happen. 
"I learned that when I was on the city council about eight years ago that everyone involved at the local level has great intentions," Warden said.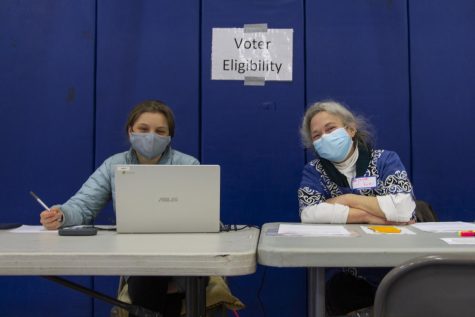 Rebecca Cunningham
High schooler Rebecca Cunningham sat inside the polling station underneath a sign that read "Voters Eligibility".
Voters Eligibility is a table at the polls to assist anyone who has issues with their voting registration. Whether it was they were not on the registration list, or there was an issue with their identification they can seek assistance in order to vote.
Because Cunningham is a high school student and isn't able to vote, she found another approach to have an impact by helping solve voter issues. 
"Even though I can't actually vote, I still want to be involved in local elections and in the community," Cunningham said.
Regardless of Cunningham's inability to vote, she still researched the candidates to gain some knowledge about who is running in this election. 
Cunningham said that people tend to read articles about the information they already believe in rather than reading different stories with contradicting opinions. By her reading around, she feels like she is getting the most accurate and vast amount of information.
No matter if someone is able to vote or not, Cunningham believes that student voting is extremely important because each student has a very different perspective and is equally as important in the community when compared to other age groups.
Leave a Comment