UVM grad displays his artwork downtown
Large-scale, abstract paintings bring color and life to an otherwise empty fourth floor room at the Burlington City Arts Center on Church Street.
The Vermont Metro Gallery not only boasts lake and mountain views, but also the impressive seven-piece solo art exhibit, "Heavy Smile," by Justin Hoekstra, '12.
During his last semester at UVM, Hoekstra was an artist in residence at the BCA Center.
He completed graduate school at the Maryland Institute College of Art in 2014.
"Baltimore is hot and swampy compared to Burlington's mountains and beautiful lake," Hoekstra said, "but I could get lulled to sleep up here."
Hoekstra, originally from a Chicago suburb, now spends his time between Baltimore and Burlington, he said.
"My art studio is a sacred space and its location is top-secret," Hoekstra said.
Hoekstra likes to keep the place where he does his painting separate from his home, he said.
"I guess I grew up on Mr. Rogers," Hoekstra said. "He had a separate place where he took off his shoes and put on his cardigan sweater, and I liked that idea."
Some of his work can shape up in two weeks and other pieces take a couple of years to complete, Hoekstra said.
He works with acrylic paint on canvas and uses a sanding technique that leaves the surface of the painting smooth.
The small holes in the paintings of his "Heavy Smile" exhibit are actually burns from the power sander he uses, Hoekstra said.
"I decided to let them happen naturally," he said. "I like watching people find [the holes] in the paintings. You are welcome to engage however you want."
A series of three paintings that hang on the far wall of the Metro Gallery titled "Room Enough for Regret," were painted in 2016 during Hoekstra's fellowship at The Lighthouse Works on Fisher's Island in New York, he said.
Two of the works in the room were started and completed in Burlington this year, Hoekstra said.
"Chunky on the Shore," is one of the most recently completed paintings in the exhibit. Its bright colors and bold composition are a stark contrast to the room's white walls.
"Inspiration is not something I think about," Hoekstra said. "I show up to work and think about and engage with the void we all come from and are headed towards."
The name of the exhibit, "Heavy Smile" was something Hoekstra came up with to describe how the paintings make sense together.
"We still sort of, you know, participate in activities that bring us joy in life, despite horrible circumstances," he said. "We live in an age of panic and despair, yet we still smile."
Visitors can view the exhibit April 21 through July 9. Admission to the BCA Center is free and open to the public.
Leave a Comment
About the Contributor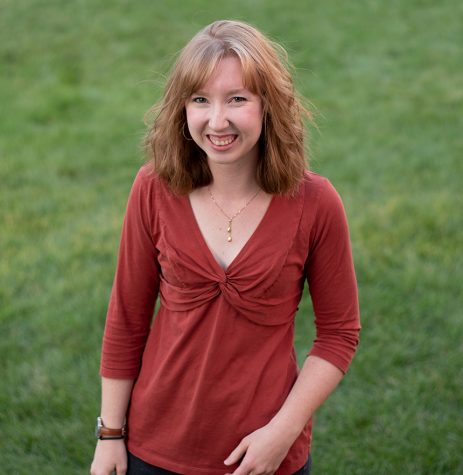 Bridget Higdon, Editor-in-Chief
Bridget Higdon is a senior English major from Sparta, New Jersey. Before becoming Editor-in-Chief, Bridget was a staff writer, the Assistant Arts Editor...