UVM rapper balances his music with his class work
Yung $eth, whose real name is Seth King, is a rapper and junior at UVM.
$eth began his journey in his parents basement in Fairfield, Connecticut.
His father, a musician himself, had built a primitive home studio which $eth utilized to create his own music at the age of 17, he said.
$eth released his first mixtape, "Sometime's It's Too Late," in the summer of 2015.
"I made it as a 17 year old," he said in reference to the tape. "It was actually about my highschool girlfriend breaking up with me and I was like 'yo I'm going to college soon, I better start making music, I'm gonna show this girl I'm actually about to be the most successful artist.'"
Since then, Yung $eth has begun to take his career more seriously as he discovers and refines his own sound, he said.
Last summer he released "Bape Boi," which $eth described as his first real project.
"It was the first time I actually took music seriously, like not being in a basement, and thinking 'yo this is something I could actually do'" he said.
In the past year, $eth has remained prolific, releasing a handful of singles over the months and an EP titled "FUELED BY HATE" April 10.$eth said his sound is progressive and unique.
He raps over 808 bass drums and snares mixed with often melodic samples.
Though a variety of producers create the beats $eth uses, he has built a rapport with certain artists.
"I work with tons of different producers," $eth said."My number one producer is a guy who goes by Slight, his stuff is crazy. He's my go to guy for nuts 808s and stuff."
Despite his prolific release schedule, $eth is a full time UVM student.
He is currently a junior double majoring in economics and English literature and on track to graduate on time, $eth said.
$eth said he is probably the only one in the hip-hop world doing so.
"The balance is so hard," he said."My grades could be so much better if I didn't make music; but at the same time the journey has just been so great."
To make this all possible, $eth has created a small management team made up of fellow students first-year Sebastian Konecsny and senior Ben Fisher.
"Konecsny has done more with booking the studio, he helps me with executive producing the beats, choosing what songs work," $eth said. "Fisher is more of 'I'm gonna handle all your shows and all the press,' stuff like that."
He is constantly creating new music and plans to consistently release singles leading up to the release of a currently unnamed mixtape this summer, $eth said.
His music is available on his Soundcloud and Bandcamp pages. $eth will be performing April 29 at Club Metronome and May 19 at ArtsRiot.
Leave a Comment
About the Contributor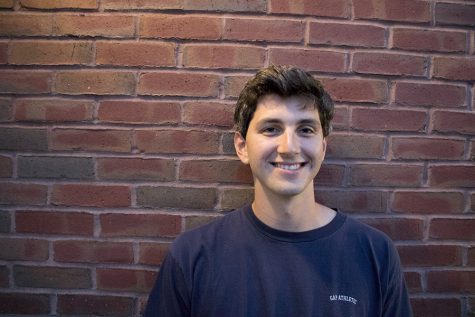 Ben Elfland, Managing Editor
Ben Elfland is the managing editor at the Vermont Cynic. He is a senior studying public communication with a minor in writing. His introduction to journalism...