Board of trustees lacks female representation despite majority female student population
Nineteen of the 25 individuals that sit on UVM's board of trustees are men at a university where women make up the majority.
UVM's board of trustees met Oct. 24-25 in the Davis Center for its third and final meeting of 2019. Less than 25% of the members that met were women.
The student body is currently 59.9% female, according to UVM's 2019 Enrollment Report. As of fall 2018, 55.9% of the faculty and staff combined were female.
Geology professor Paul Bierman said he believes it's important for the board to represent the students, faculty and staff of UVM. 
"To me, there's no excuse for that," Bierman said. "This campus is almost 60% women, and you look at a board where it's almost five to one. Isn't there something wrong with this picture?"
Trustee Carol Ode, one of the six women that sit on the board, said that she doesn't see the lack of female representation as an issue.
"I don't think you have to be exactly represented as the population," Ode said. "It just doesn't work out that way. I haven't seen it as an issue for me personally."
Ode said she doesn't think there needs to be equal representation of men and women on the board. She said she sees herself as a trustee, not a woman-trustee.
SGA President Jillian Scannell said that representation and diversity are important to her as a leader on campus.
"I think we should always be having conversations about who's in the room and who's not in the room," Scannell said. "Those should be ongoing conversations for any governance body."
Scannell also said that it's important when talking about gender parity to keep in mind that there are many students at UVM that do not identify as either male or female.
The board is meant to adopt policies that support the mission, principles and goals of UVM, according to the board of trustees' website.
One of UVM's goals is to strive for a diverse community, according to the UVM website. 
"It's hypocritical in a way if the board is not actively seeking out those conversations and having those conversations, while our University says that it is doing those things," Scannell said. "That's an issue."
Bierman said he noticed the gender gap on the board after joining his students at the board's public comment meeting Oct. 24, where students voiced their concerns about UVM's investments in fossil fuels. 
"I started looking around the board, and there was one man whose body language just said, 'I don't care what you think,'" Bierman said.  "And then I started counting and looking around and saying, 'wait a minute, that's one old white guy and another old white guy.'"
Sidney Hilker, a medical student and one of the two student trustees on the board, said that she has been impressed by how diverse the board is on all dimensions, including where members are from, their expertise and their ethnicity. 
"We spend a lot of time thinking about what will make diverse students want to come to UVM," Hilker said. "And by extension of that, how we can create the most diverse leadership and board to speak everything that we try to build at UVM."
The board is made of three people appointed by the governor of Vermont, nine elected by the Vermont legislature, nine trustees that are elected by existing members, two student trustees and the UVM president and Vermont governor. 
Leave a Comment
About the Contributor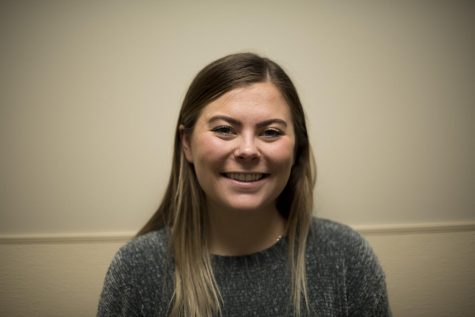 Emma Pinezich, News and Sports Editor
Emma Pinezich is a senior Political Science and French double major from New York. She started working for the Cynic as an illustrator in her first year...