Burlington looks to redistrict unconstitutional voting wards
Some of Burlington's voting wards are unconstitutional and are being redistricted, according to U.S. census data and a June 28 resolution from the Burlington City Council.
Voting districts within a municipality must have populations consistent within a 10% deviation from one another to prevent discrimination, according to Reynolds v. Sims. The 2020 census data stated some of Burlington's eight wards no longer fall within that margin and are unconstitutional.
Ward One exceeded the margin and Ward Seven fell below it, according to a presentation from City Attorney Dan Richardson at the Sept. 29 orientation meeting for the Ad Hoc Committee on Redistricting. 
"In natural good practice, we want to take a look at the districts every 10 years or so in accordance [with] the census to make sure that we are including all of the voices in Vermont," said Jane Stromberg, Ward Eight city councilor. 
Additionally, Joan Shannon, former city council president and current city councilor, said Ward Eight was gerrymandered to prioritize UVM student representation, according to a Feb. 26 2020 Cynic article. 
Gerrymandering refers to the manipulation of election districts that gives an unfair political advantage to one party, according to the Merriam-Webster dictionary.
Ward Eight was created during the 2012 redistricting effort, in which Burlington went from having seven wards to having eight, the resolution stated. This eighth ward covered Athletic and Redstone campuses, giving it a predominantly student population, the Cynic article stated. 
"Ward Eight looks like shit," said Robert Bristow-Johnson, committee member for Ward Seven who participated in the 2012 redistricting effort. There's no doubt about it, but it's not like it was gerrymandered to look like that." 
Ward Eight came about as a compromise towards reducing drastic change for other districts, Bristow-Johnson said. Because of Ward Eight, 82% of the city stayed in the same district with the same voting location.
"It's leftovers," Bristow-Johnson said. "That's what Ward Eight is, it's leftovers."
Ward Eight has more issues than possible gerrymandering, said graduate student George Love, the Ward Two committee member.
"One of the requirements is continuity, which Ward Eight barely satisfies with its one piece of property connecting two different strips of district," Love said.
Districts also must be compact, with residents living reasonably close to one another, according to the National Conference of State Legislatures.
"If there was a student district that was compact, I would be perfectly fine with it," Love said.  
Several residents within Ward Eight expressed concerns about how spread out the ward is, said Anne Breña, Ward Eight committee member. 
Students have historically been marginalized in voting processes, Stromberg said. One form of gerrymandering is packing, which places a large group into a small number of districts to contain them, according to the Princeton Gerrymandering Project.
Concentrating students in one area minimizes the power of their votes, Stromberg said.
"[Ward Eight] basically encompasses that really, really dense area where there's the most students in the whole city," Stromberg said. "When you have one district full of that, the other districts don't really have that level of influence."
Stromberg wants to see student populations spread out across multiple wards, she said. 
"The balancing [of long-term residents and students] is always going to be difficult," Stromberg said. "We want to intertwine students into the culture of the city, and we want to make people feel welcomed here." 
The committee will gather public input and create a summary report to submit to the City Council, the resolution stated. City Council will synthesize this information to guide a selected mapping specialist. The guidance will include details regarding the preferred number of city councilors and wards. 
The mapping specialist and the City Attorney will present the proposed map to the City Council for their consideration, according to the resolution. Upon approval, the map will be on the November 2022 ballot for voter referendum. 
Neighborhood Planning Assemblies, known as neighborhood advocacy groups according to the City of Burlington website, selected committee members from each respective ward, Richardson's presentation stated.
The committee addresses multiple considerations within the redistricting process, including preserving current city councilors, the number of wards, minimizing changes and the total number of city councilors, Richardson's presentation stated.
Redistricting was planned for the March 2022 ballot, but the committee moved it to the November 2022 ballot at their Oct. 26 meeting. This follows their request for an extension on their public input report to City Council at their Sept. 29 meeting, according to a Sept. 29 article from Local 22 & Local 44 News.
The committee will hold three public meetings for residents to provide input on the redistricting, according to the City of Burlington website. These will be held on Nov. 1 at Burlington City Hall, Nov. 17 at the Robert Miller Community & Recreation Center and Dec. 6 at an unannounced location.
About the Writer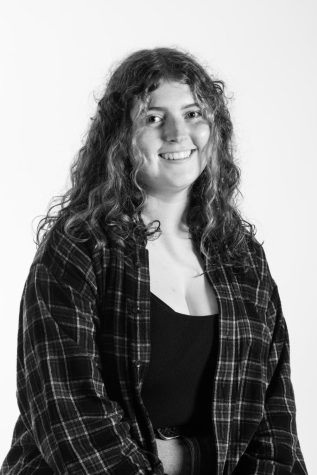 Halsey McLaen, News Editor
(She/they) Halsey McLaen is a junior from Groton, Connecticut, majoring in environmental sciences with a minor in reporting and documentary storytelling....