Happening Now: UVM board of trustees hold annual meeting and discuss changes to come
The group that governs UVM is meeting all day Oct. 25-26 on the University's campus to discuss and vote on changes to come.
The group, the board of trustees, meets three times per academic year in October, February and May. This will be President Suresh Garimella's first BOT meeting.
Throughout the day, the Vermont Cynic will publish live updates on what was said and what decisions were made that will impact the UVM community.
Update one: Multipurpose event center construction on schedule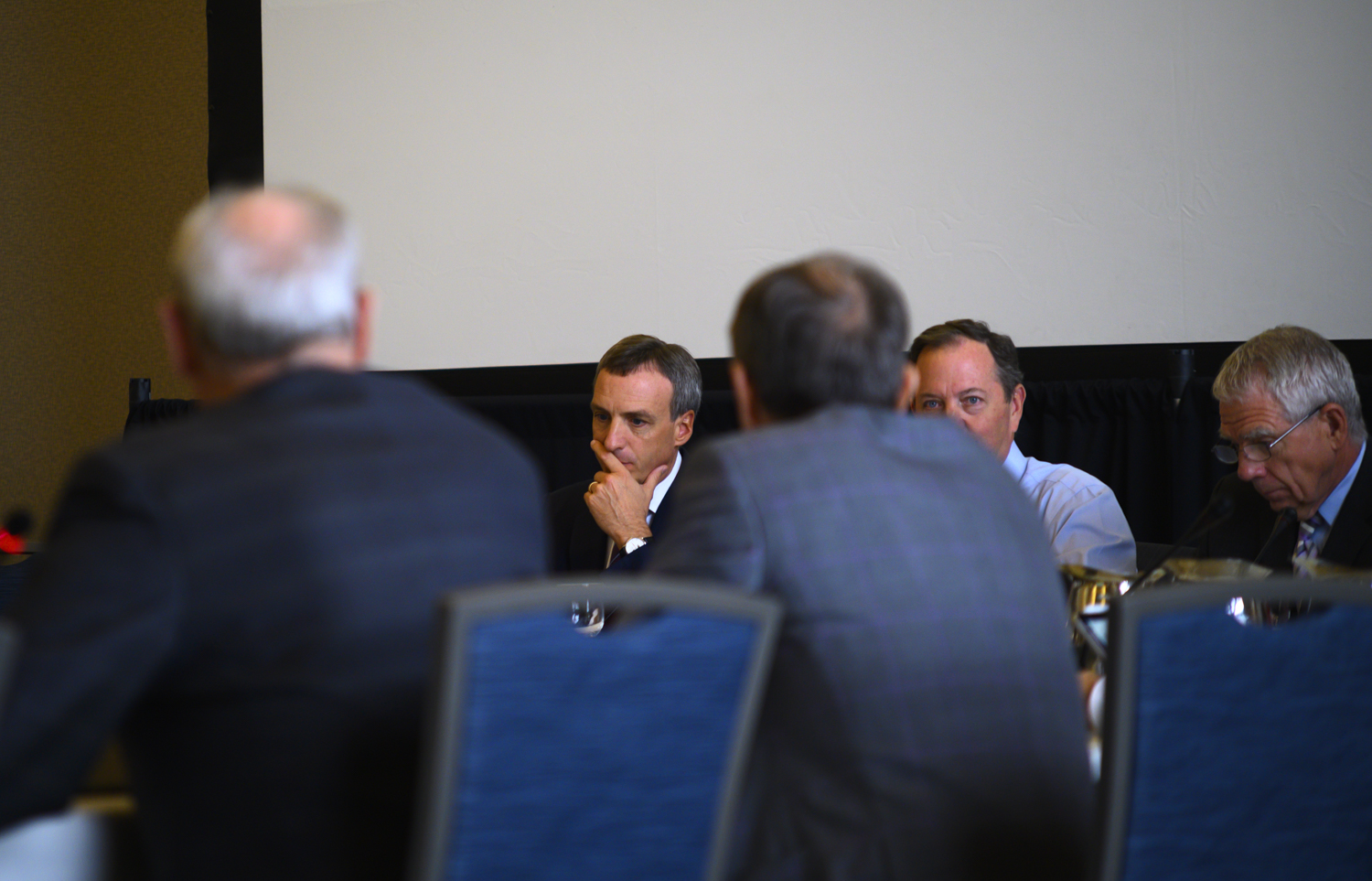 The $90 million new multipurpose event center is on schedule and set to be finished within the next three years, said the director of UVM Capital Planning and Management. 
At the board of trustees meeting that took place on Friday, Robert Vaughan, the director, revealed updates to the project and showed a schedule, blueprints, and pictures to highlight some of the progress of the project.  
"We've got three years of work ahead of us to get all of this work done, and its been a number of months doing enabling projects," Vaughan said. 
The project, which was approved in May, consists of changes to the Patrick complex, UVM's gym, and will include a new basketball court and a renovation of the Gutterson Fieldhouse. 
Vaughan continued to tell the board updates, such as the mobilization of general contractors for the construction and the investment of materials for the construction. 
– Lilly Page, Staff Writer
Update two: UVM needs to better address student mental health needs
A subcommittee of the board of trustees said the way UVM addresses student mental health needs to evolve.
The Educational Policy and Institutional Resources Committee said that student mental health should be better addressed following a shift in the way the nation understands mental health, said Annie Stevens, vice provost for student affairs.
"There's an increased demand for student mental health service", Stevens said.
She said that this is in part due to a de-stigmatization of seeking help.
According to the Enterprise Risk Management Update #15 on student mental health needs, the University has expanded access to health care providers by adding staff to meet increased demand.
Further, primary care accessibility (e.g. Identity Center) has generally been expanded to offer group counseling, online scheduling, and evening hours at Redstone Campus, according to a presentation presented to the committee.
Better resources are needed for graduate students and faculty to identify students who need help, said graduate student Kenna Rewcastle.
"There's absolutely no training," said Rewcastle in response to a question about how to equip faculty to differentiate a student who says they are "not in a good headspace" to take an exam vs. one who is simply unprepared for the deadline.
Looking to the future, "families are key," Stevens said.
Parent and family outreach will be enhanced with further centralized co-located health services emphasized to make it easier to access mental health services, according to the presentation.
Additional points addressed at the Educational Policy and Institutional Resources Committee include long-term educational policy, the efficacy of the residential learning communities and academic program review.
-Maryann Makosiej, Staff Writer
Update three: Trustees concerned over what unpredictable financial market could mean for UVM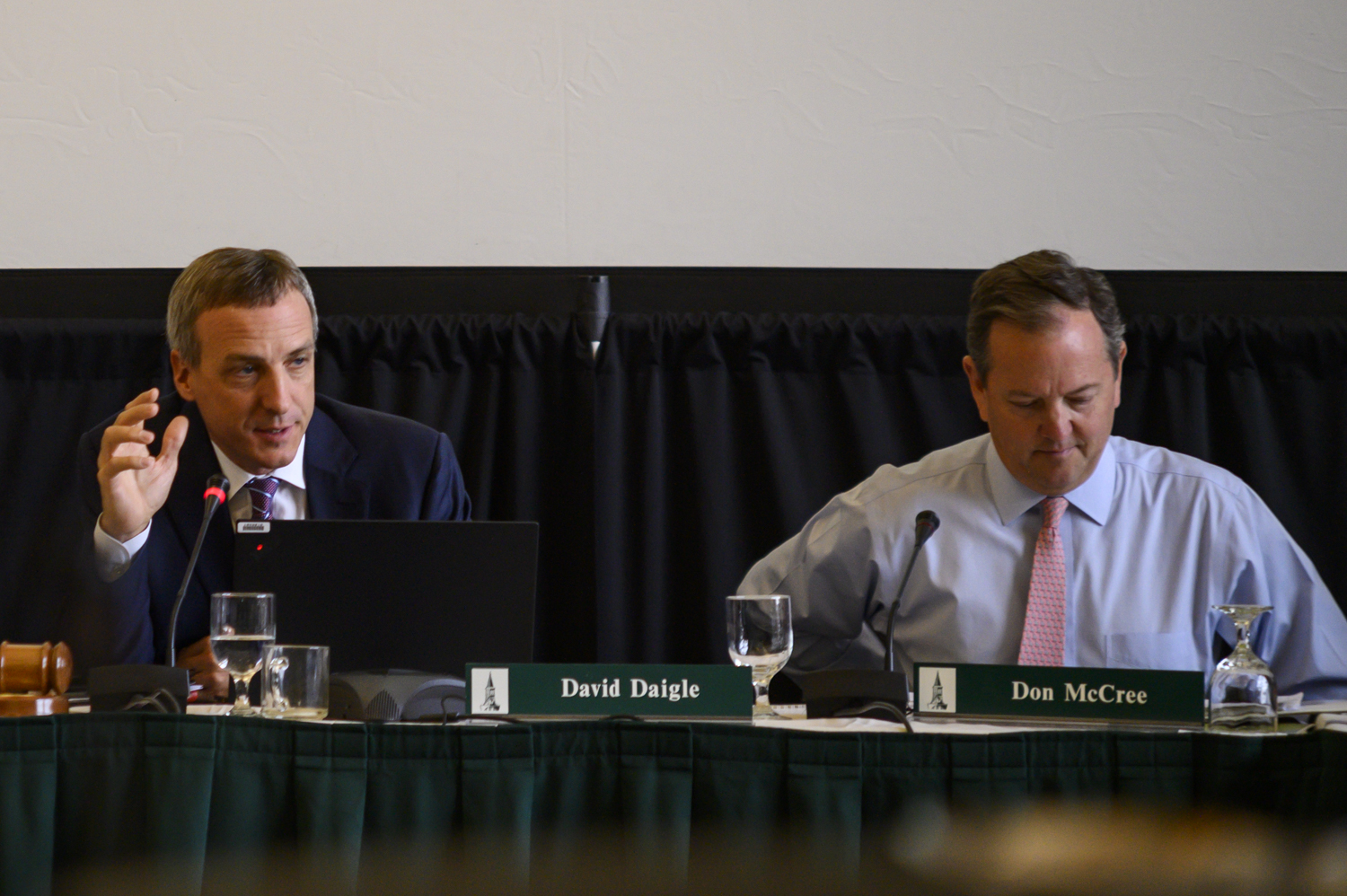 Members of the board of trustees expressed concerns that an unpredictable financial market could stop UVM's endowment from growing. 
At 10:30 Friday morning, members of the Budget, Finance, and Investment Committee of the board met to discuss the performance of UVM's $555 million endowment. 
Members raised concerns about unstable numbers in the global market, and how it could affect the endowment's investments.
"As we look forward we are concerned about the valuation of the markets," said board member Donald McCree. "Just read the newspapers of what's going on. I would expect to see modest growth going forward if any."
Board member Robert Brennan said that the market reflected fears about trade issues, slowdowns in Europe and China, and a slowdown of manufacturing in the US.
Other members including the board chair David Daigle expressed concerns that unpredictable changes in global markets means that the value of UVM's endowment will not generate interest as it has in the past. 
"The days of generating seven, eight, or nine percent of returns are not here," said Daigle. "Those days are over. At a net basis, we're not generating growth in the endowment," Daigle said. 
– Emma Pinezich, Assistant News Editor
Update four: Trustees say no to divestment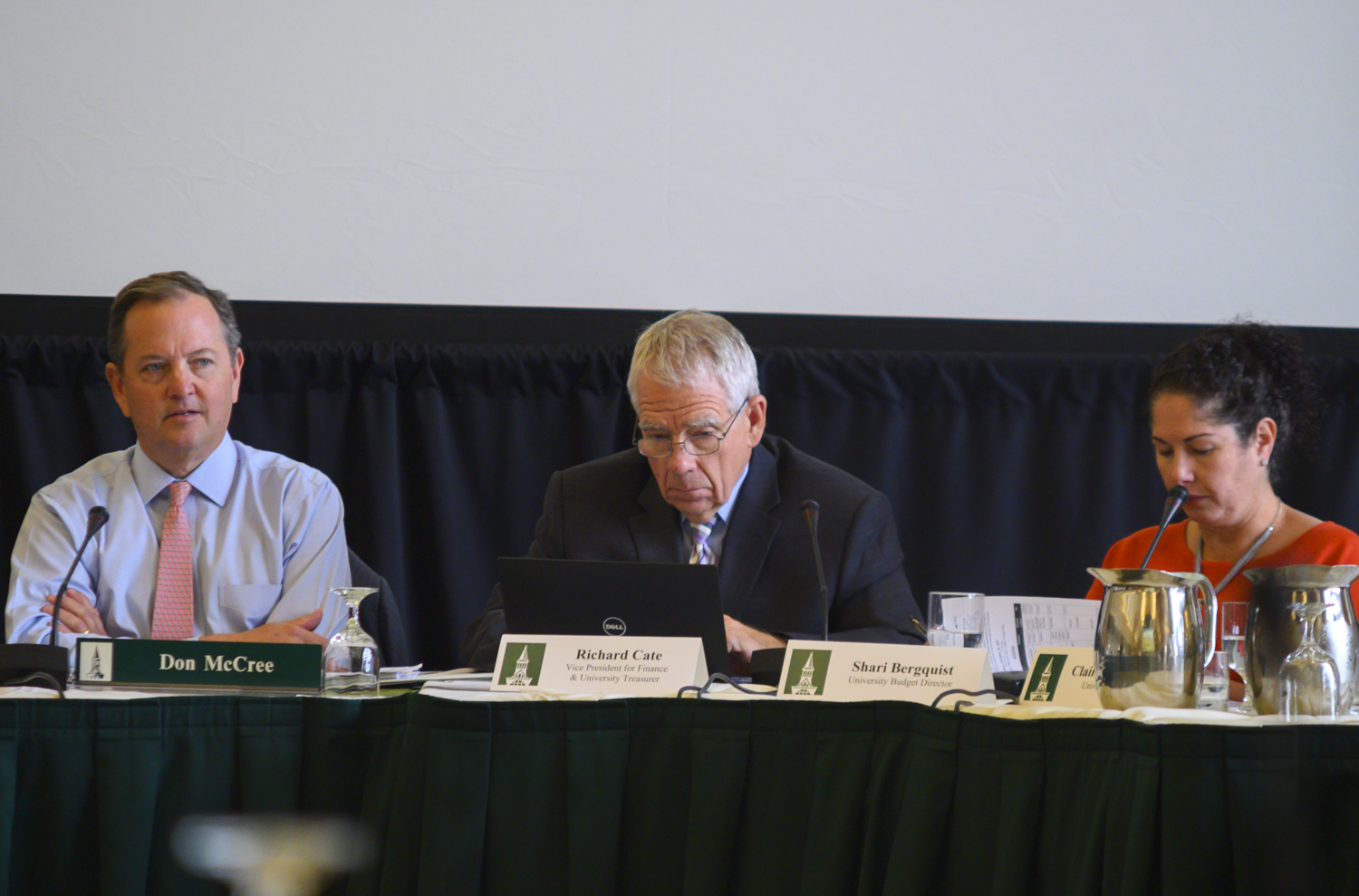 The board of trustees did not indicate that UVM would divest from fossil fuels, despite a student group's plan to present a divestment proposal Saturday morning.
Chair member Robert Brennan Jr. said that the board must stay committed to making sound financial investments when asked about students' divestment concerns at the Budget, Finance and Investment Committee meeting Friday morning. 
"Our primary lens through which we invest is the fiduciary responsibility," Brennan said.  "So as we approach the topic of sustainability, we approach it through the prism of 'what's the best way to make adjustments for the endowment?'" 
He then said that the endowment is investing more money in renewable energy because they happen to be financially beneficial investments, and not for environmental reasons.  
"It just so happens that there are some phenomenal investment opportunities in the sustainable space," said Brennan. "So happily for the fiduciary in us, we can make what we think will be good investments, that are also sustainable investments."
– Emma Pinezich, Assistant News Editor
Meetings will continue Saturday morning when the full board again meets starting at 8:30 a.m.
Leave a Comment