Migrant justice activists return home after immigration hearing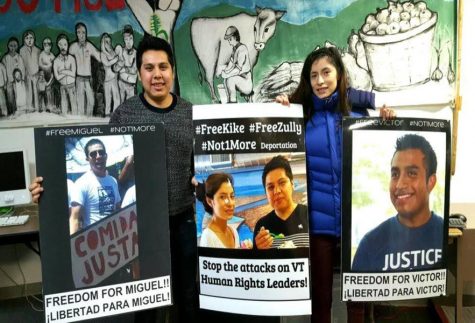 Protesters gathered outside the federal courthouse in Boston March 28 in support of recently arrested Vermont immigration activists.
Enrique Balcazar and Zully Palacios, who are married, were arrested March 17 in Burlington. Palacios was arrested by the Immigration and Customs Enforcement for overextending her visa.  
People are being targeted by ICE due to their involvement with activism "unquestionably," said Will Lambek, communications correspondent for Migrant Justice.
"It's seems like it only impacts the people who are from the outside and it's not impacting us," first-year Maria Patari said. "But in a weird way, we're all immigrants, so it's something we should care about."
The two activists had been targets of ICE since September, said Mat Cameron, Balcazar and Palacios' lawyer.
Their arrest marks the third arrest of a Migrant Justice activist in March.
After being detained in New Hampshire, Palacios and Balcazar returned home to Burlington, according to Vermont Public Radio. They spoke at a news conference March 28.
"ICE targeting people because of their political speech affects us all," Lambek said.
Since being arrested and detained, Balcazar and Palacios have been recommitted to their activism, Cameron said.
"People have been more emboldened than ever before to speak out," Lambek said.
Balcazar came to Vermont at the age of 17 and worked on dairy farms, Lambek said.  
Soon, Balcazar became a strong advocate for migrant rights in the state. He lead campaigns such as the Milk with Dignity program, which calls on on food corporations to take responsibility for farmworker rights abuses, Lambek said.
"He has a very impressive resume for a 24-year-old organizer," Cameron said.
In addition, Balcazar has helped to write policy preventing police from profiling immigrants or collaborate with immigration enforcement, Cameron said.
He is currently serving on the attorney general's immigration task force in the state, Cameron said.
Lambek said the state should pass a recent bill proposed in Feb. that would create a board to help implement racial justice policies across Vermont. This would ensure impartial policing practices, he said.
"I think social justice is a big part of UVM, so I think it's important for UVM students to care, or at least learn about it," first-year Elise Albertini said.
First-year Anna Thomas said she would advise students to keep up to date with this situation.
"Stay informed," she said.
About the Writer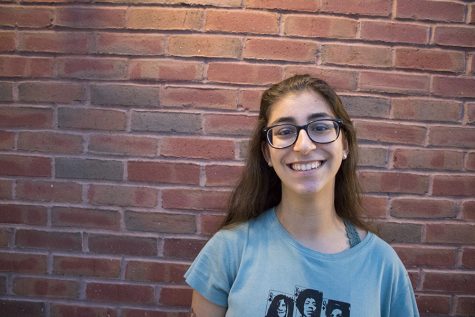 Chloe Chaobal, Podcast Editor
Chloe Chaobal is the podcast editor of the Vermont Cynic. She joined the Cynic as a news writer in her first semester of UVM. She also created "Cat Chat",...