SGA swears in newly elected first-year senators
SGA swore in newly elected first-year senators at their Sept. 9 meeting, adding new voices to the association for the upcoming school year. 
Labeled, "Emergency Business," on the agenda, the new senators stood with their right hands raised in the center of the Senate, preparing to speak words granting them entrance into the governing student body of UVM. 
Senior Cyrus Oswald, speaker of the senate, asked the new senators at the ceremony to repeat after him an oath of commitment. 
"I hereby affirm that I will faithfully serve the students of the University of Vermont, act in accordance with the Student Government Association constitution, uphold the values of our common ground and fulfill all duties and responsibilities," he said. 
The new senators include first-years Taylor Macharrie, Annie Boudreau, Brooke Dietrich, Olivia Eisenberg, Matt Sorensen, Emma Ferguson, Riley O'Hagan, Sydney Daniels and Carter Purple.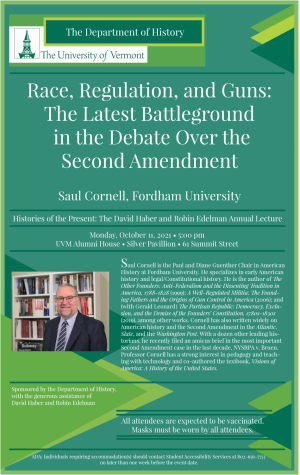 SGA candidates ran their own campaigns during the beginning of the school year with a maximum spending budget of $50 each, according to the UVM SGA website. 
"To be honest with you this is my own childhood dream coming true," said Dietrich, a new senator on the Committee on Student Action and Well-Being. 
Dietrich said she feels passionate about student engagement and policy making. She looks forward to gaining a better understanding of how the school works. 
"[I want to] help people who feel like their voices have been ignored, and just do my best to represent the student body and their wants and needs," said Eisenberg, newly elected senator for the Committee on Legislative and Community Affairs. 
Dietrich and Eisenberg said they both look forward to learning more about the processes of SGA and about the student body itself. 
"I hope to just keep listening and then reach out to other students and see what they have to offer and how I can use that to bring it to the community," Dietrich said.    
Soon after the ceremony to swear in the new senators, junior Olivija Stephens, vice president of SGA, said SGA would hold a senate retreat Oct. 2. 
SGA meetings are held at 7 p.m. in the Livak Ballroom on the fourth floor of the Davis Center and are open to the general community of UVM.