Students Demand Menstrual Products
f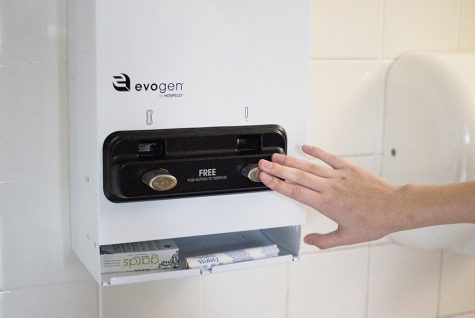 Abby Kaiser
Students have been working to get free pads and tampons for all restrooms across campus.
The plan posed by students on campus, which is projected to be in place by the end of this academic year, would put a dispenser in all bathrooms in academic buildings and residence halls, said senior Teremy Garen, president of Planned Parenthood Generation Action.
Not having assured access to pads and tampons can hurt students' peace of mind and attendance if they get their period unexpectedly, said Michelle Paavola, acting medical director at the Center for Health and Wellbeing.
"It can impact your ability to be on campus," she said. "You might have to go back to you dorm or apartment and take care of things."
Junior Skyler Woodworth, who started the initiative last fall, said that the first goal is to have these products offered in residence halls in bathrooms and at the front desk.
She came up with the idea for this project after seeing how the Davis Center provides these supplies, she said.
The Davis Center custodial staff began supplying these products using their custodial budget when the Davis Center opened, said Lina Balcom, assistant director for Davis Center operations.
Senior Lilac Blau, vice president and treasurer of the Queer Student Union, said that not providing these products in the men's room is unfair to transmasculine students
QSU President junior Carter Shapiro said lack of access to these necessities makes them feel like the University does not want them here.
"It's so secondary it would make me feel like, 'oh, I have to go out of my way again,'" they said.
Sophomore Emilie Begin, a member of the SGA Student Action Committee hopes to have signs in men's rooms directing people in need of menstrual products to the nearest restroom with the products.
Currently about 10 percent of bathrooms on campus have free tampons and pads, Garen said.