UPB and SGA agree to new SpringFest funding plan
The University of Vermont's annual spring concert has gotten its funding back just one year after it was revoked over concerns of cash stockpiling.
The Student Government Association voted in favor of again funding SpringFest 2020 after revoking its funds in 2018.
SGA was concerned with the $196,000 of excess cash the UVM Program Board held in an overflow fund to use in case of emergency, according to an April 2018 Cynic article.
The new bill establishes a one-year agreement for $65,000 in funding, a $15,0000 increase from previous years.
The bill was introduced April 2 and took effect April 9, and will be reevaluated for the 2021 SpringFest.
SpringFest is an annual event put on by UPB, which took over the event from SGA in 2012.
SGA requested that UPB decrease the size of the fund, which UPB has done this year by using it to pay for the 2019 SpringFest, said advisor Maggie Colbert, coordinator for campus programs.
"That's exactly what this money was put aside for should this exact situation happen [where SGA does not fund the event]," Colbert said.
UPB will continue to have a fund like this, but it will try to avoid letting it get so big, she said.
The new bill requires UPB to find talent that bills at least $75,000. Once this requirement is met, SGA will fund $65,000 toward the cost of a performer.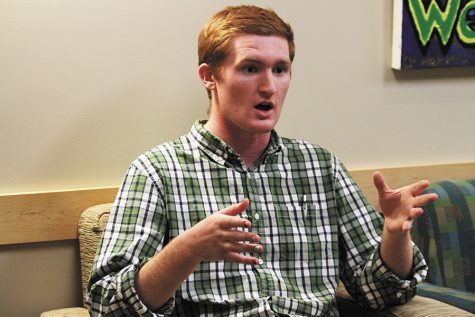 Sophomore Aidan Doherty, a senator on the Student Action and Wellbeing Committee who sponsored the bill, said the $75,000 requirement ensures the quality of the performance goes up.
"We bumped [the funding] up to $65,000 because we wanted them to get higher-tier talent," Doherty said. "The simple logic of more money leads to better talent."
The performers for SpringFest ave generally cost between $70,000 and $75,000, Colbert said.
"This year with [SGA] giving us more provides the opportunity to bump it up to the $80 [thousand dollars] range for us," Colbert said.
Junior Maggie Hirschberg has never gone to SpringFest mainly due to not knowing the performers and is not really a fan of rap music, which has featured prominently at the concerts in the past few years.
"If they increased the funding and actually had someone that I knew and kind of liked, then I would consider going," Hirschberg said.
Colbert said she is happy with the improvement in SGA's and UPB's relationship and she hopes in the future to continue to communicate and find sustainable, long-term funding solutions in the future.
Other changes include the elimination of the beer tent, listing SGA as a co-sponsor of the event, and the formation of a Joint SGA and UPB Coordinating Committee.
This kind of process, where an outside group has to petition SGA for money to put on SpringFest, is not common at other universities, said Daphne Wells, director of student life.
She hopes that with the combined committee things will go smoothly in the future, she said.
Leave a Comment