UVM unveils new breastfeeding spaces
A year after nursing mothers told UVM Staff Council they were having difficulties finding clean places to pump breast milk, the University has added two new lactation stations.
UVM unveiled two new Mamava lactation pods, Feb. 4 in Discovery Hall and Patrick Gym. Mamava is a company with UVM roots, as its CEO and co-founder Sascha Meyer '93 is a UVM alumna.
Mamava is a Vermont-based company that designs lactation suites for breastfeeding moms.
At the unveiling, Wanda Heading-Grant, UVM vice president for Human Resources, Diversity and Multicultural Affairs, recalled her early time at UVM when she was still nursing her own children.
"Even as I worried, I still felt fortunate because I had a door and I had an office," Heading-Grant said. "Everyone does not have a door, and everyone does not have an office."
After attention to this issue was raised, Stephanie Loscalzo, a UVM Staff Council member, said she worked with Gary Derr, vice president for operations and public safety, and staff at the UVM Affirmative Action Office to form a special committee to study the issue.
The committee, called the Parent Advocacy Group, took note of where spaces were absent or where additional spaces would be useful, she said.
Meyer, said her time at UVM helped to prepare her for her role in the company.
"When I graduated from UVM, I knew my parents were probably thinking, 'What is she going to do with a sociology major and a women's studies minor?'" Meyer said. "But clearly given what I do now, my time at UVM prepared me very well."
The suites serve as a symbol to the broader community at UVM, reminding everyone of the normality of this basic human function, she said.
Erica Hutchins was in the crowd at the event to celebrate the new pods with her 1-year-old son, Emmet.
Hutchins has been working for Mamava for three weeks, and previously worked for UVM for over three years as a marketing and promotions coordinator in the athletic department.
Hutchins said she has had at times difficulty finding clean, private areas to pump milk for her babies, in particular when traveling for work, she said.
"You don't want to make milk where someone else is going to the bathroom," she said. "So going to airports that have had pods has truly made a difference, having that kind of amenity."
As an entrepreneur, female CEO, and a person working to better many communities through her work, Meyer said she feels lucky.
"To be able to be focused on something really really positive that is around taking care of the next generation is a wonderful place to be," she said. "It allows me to get up every day and be energized, versus feeling demoralized by broader cultural forces."
Leave a Comment
About the Contributor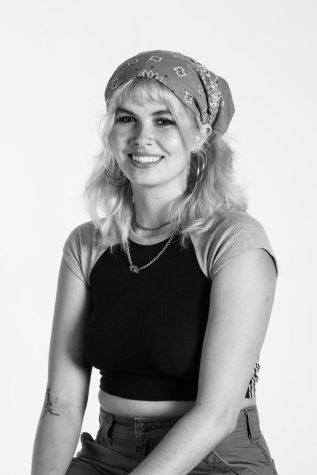 Ella Ruehsen, Editor-in-Chief
​(She/her) Ella Ruehsen is a senior environmental studies major with minors in political science and reporting and documentary storytelling. Before becoming...