Goaltending leads men's hockey past Maine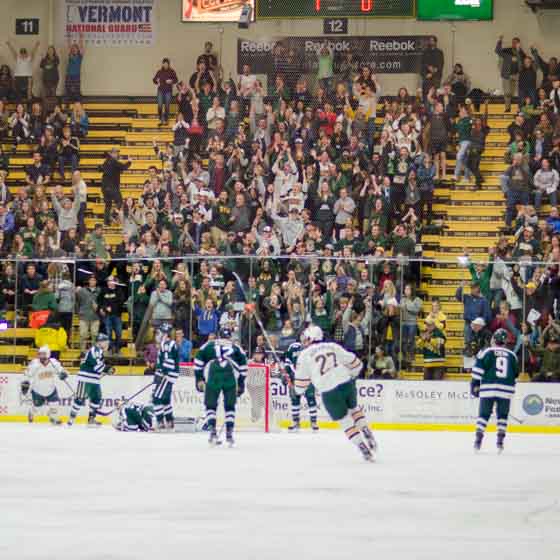 Hang on for a minute...we're trying to find some more stories you might like.
Despite a sluggish start, Catamount men's hockey were able to find their way to victory on a Friday night at home.
First-year goaltender Stefanos Lekkas stopped 36 shots, and senior forward Rob Darrar scored twice as the Catamounts prevailed 6-2 over the University of Maine Black Bears Nov. 18 at Gutterson Fieldhouse.
Neither team scored in the first period, thanks largely to Lekkas, as the Catamount goaltender stopped all 17 shots he saw in the period. Maine goaltender Rob McGovern did his part for the Black Bears, stopping seven first-period shots.
The Catamounts struck first, scoring less than a minute into the second period.
First-year Ross Colton pressured Maine defender Keith Muehlbauer into a turnover in the neutral zone, giving Colton a breakaway. Colton then decked McGovern and slipped the puck past him to put Vermont up 1-0.
About five minutes later, the Catamounts struck again, as Darrar fired a one-timer from the top of the circle past a surprised McGovern to push the lead to 2-0. He added a second goal around five minutes after that, converting on a breakaway to extend the lead to 3-0.
Four minutes later, the Catamounts grabbed another goal, this one on the power play. With Brendan Robbins in the box for hooking, senior defender Rob Hamilton took a shot from the point that beat a screened McGovern to make it 4-0 Vermont.
Maine pulled one back in the last minute of the period, as Rob Michel's point shot beat Lekkas stick-side to cut the lead to 4-1 after two periods.
Vermont grabbed the first goal of the final period, as first-year Derek Lodermeier pounced on a rebound from a Chris Muscoby shot for his first collegiate goal, restoring the four-goal cushion. With the score now 5-1, Maine head coach Red Gendron pulled McGovern, replacing him with Stephen Mundinger.
The Black Bears would pull one back midway through the third, as Patrick Holway stuffed one past Lekkas on a rebound to make it 5-2. With about five minutes to go and two Catamounts in the penalty box, Gendron pulled Mundinger to give his team a three-man advantage.
However, this didn't work, as a pass from Chase Pearson missed Holway at the point and rolled down the ice and into the vacant Maine net for an own goal. The goal was credited to senior forward Mario Puskarich and ended the game at 6-2.
Head coach Kevin Sneddon credited Lekkas for keeping his team in the game.
"We owe a lot of thanks to Stef for the first period," Sneddon said. "I thought we came out a bit slow."
Darrar believes Lekkas's saves helped energize the attack.
"Stef made a few great saves," Darrar said. "He's playing great and that brings some energy for our forwards."
Following their triumph in the Friendship Four tournament in Belfast, Northern Ireland, the No. 14 Catamounts take a week off, returning home Dec. 9 for a battle against the No. 7 Boston University Terriers.