Student releases book of poetry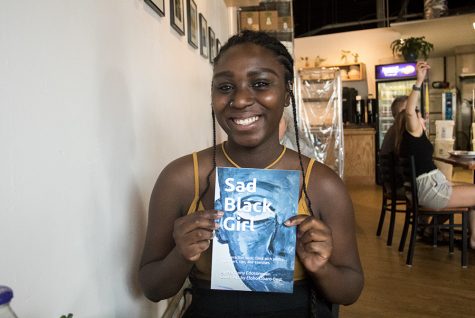 The poet sat in a vegan bakery, Kneads, in the North End. The blank walls contrasted the color of her newly published book sitting on the table.
Junior Harmony Edosomwan published a book of poetry in May through Amazon's self-publishing service. 
The book, titled "Sad Black Girl," is an interactive poetry book filled with Edosomwan's words, places to express the reader's own feelings and art made by friends and strangers.
"At first I wanted it to be called 'Sad Black Girls,' and I wanted it to be a poetry book composed of poetry that wasn't just mine," said Edosomwan, who is Nigerian American. "It was really important to me that they were black women or femmes." 
For Edosomwan, "Sad Black Girl" isn't meant to be self-deprecating. It's an identity that black women aren't allowed to assume in our modern culture. 
The back jacket of the book reads, "Roses are red / Violets are blue / Black Mental Health ain't a stigma / But a damn issue." 
Mental health is a running theme in the book. Edosomwan said she has struggled with depression and other mental health conditions. 
Edosomwan said she wanted to create a space where black women, who are constantly told that they cannot express themselves openly, are safe and cared for by a "fellow Sad Black girl."
"I wanted folks to feel like they had a place they could go to, but in book form," Edosomwan said. 
Edosomwan began writing in the third grade. She said that a librarian introduced her to poetry and that the librarian's encouragement led her to be a writer today.
Edosomwan was one of the organizers of the Waterman protests that took place on campus in order to address injustice within the University. She worked with the student activist group, No Names for Justice. 
What people don't realize about her advocacy work is the toll it takes on a person emotionally, she said.
"It took me a long time to recover from that entire thing, and I didn't realize how much it damaged me until that summer came up," she said. 
Since the publishing of her book, Edosomwan has been offered opportunities to read around the Burlington area.
"I have a few opportunities coming up where I get to speak with middle schoolers, and that's my target audience. Middle school is… hard," Edosomwan said. 
Edosomwan's twin, Ivory, was a huge inspiration and support system during the process of writing the book. 
"When the book came out, it hadn't even dawned on me, and Ivory was like 'Dude I don't think you understand how big this is, that you're an author at 21,'" Edosomwan said. 
"Sad Black Girl" can be purchased on Amazon's website. "My heart and soul is in that, and I'm happy folks are liking it," Edosomwan said.