Senior Lecturer's art addresses ecological changes
Despite the bleakness of late winter, looking at Cameron Davis's bright, earthy canvases is like stepping into the beauty of springtime.
Davis is a senior lecturer of art and art history, and teaches drawing, perspectives on art making and courses on art and ecology. She currently has her work on display both at the UVM Medical Center and the Annex Gallery in Vergennes, Vermont.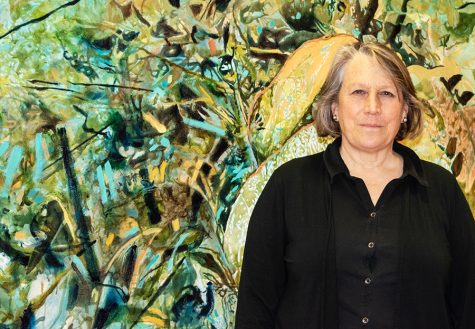 Davis said that her work uses recognizable imagery: plants, water patterns, honey bees and insects as a reference to the natural world and her own inner sense of presence.
After entering through the main entrance of the UVM Medical Center, take a left, then a right just past the gift shop.  Davis's collection of work, "Endless Spring" is hanging on a curved wall.
Davis's artist statement mounted alongside the paintings states that the series refers to one of many Buddhist terms for enlightenment or awakening.
"With the fluctuation of climate, spring's renewal is no longer a given," she said.
Davis's painting process allows her to emotionally address collective ecological emergencies, she said.
"These same emergencies call us to embrace our belonging to Earth and the cosmos, remembering that we do to Earth, we do to ourselves," she said.
Davis said that a painting can take several months to several years for her to complete.
"Sometimes they lay dormant, and I come back to them and rework them," she said.
Her paintings are a collaboration with you and nature, where she utilizes translucent acrylic layering as a way to sink into the depth of the painting, she said.
"The layering invites an immersive gaze, where we find ourselves within a space, just as we are within this whole living system we call life," Davis said.
In Vergennes at the back of the Shelburne Village Wine and Coffee, is Annex Gallery, an art gallery owned by Justine Jackson and Sophie Pickens. Davis's work has just been put on display there, and the opening reception was March 29.
Jackson first met Davis after taking one of her art classes at UVM and wanted Davis's work to be displayed at their gallery.
"I have always been excited by her direct engagement in activism through her art," Jackson said.
At the gallery, the paintings are large and span nearly from floor to ceiling, so the viewer is often looking up into her works, Jackson said.
"When you walk into the space, you are fully immersed in the world of Cameron's work," she said. "It creates the immediate effect of feeling small and simple … which I think is important to the larger message of her paintings."
When viewing the paintings in UVM's Medical Center, sophomore Alden Krawczyk noted that Davis's works are important, earthy and abstract paintings.
"In a hospital, people look up at these, and people see these paintings as very serene whose purpose is to help heal," he said. "If you have a chance to look at it you should."