Longtime diversity advocate departs UVM for historic new role at Carnegie Mellon
Wanda Heading-Grant, UVM's vice president for diversity, equity and inclusion, plans to take her talents to a new institution after 37 years of fond memories with UVM.
Heading-Grant began her relationship with the University as a student in 1983, and now plans to end her tenure and take a new position at Carnegie Mellon University next fall. 
Heading-Grant was the first treasurer for the Black Student Union on campus when she was a student, and although her career is moving elsewhere, she said she does not plan on distancing herself from the UVM community. 
"UVM is my forever family. When I return, I will not be returning as a visitor, I will be returning as a family member," Heading-Grant said. "I can't wait to come and see how much UVM has grown."
Heading-Grant said after 37 years of memorable moments at UVM, she is ready for a new challenge and to continue to learn and grow her impact. 
"I want to advance my career," Heading-Grant said. "I want to have those forever moments in other places."
Heading-Grant will be the inaugural Vice Provost for Diversity, Equity and Inclusion and Chief Diversity Officer at CMU, and she said she is looking forward to applying her knowledge and skills to not only the university but to the city of Pittsburgh as well.
"I love the fact that they're calling racism out, and they want someone to help them to do that. I think that I'm good at what I do," Heading-Grant said. "I'm not just passionate about it, I feel as if I have a skill and am ready to do that."
Heading-Grant said one of the accomplishments she is most proud of at UVM is the BlackBoard Jungle Symposium, an annual event she founded offering a forum for discussion surrounding diversity, equity and inclusion. 
"I feel so strongly about professional development and engagement," Heading-Grant said. "I think that to use educational platforms to help eradicate and dismantle and push up against systematic bias and oppression is so important."
Heading-Grant also founded and supported spaces such as the Prism Center and the Mosaic Center for students of color, which are on-campus places of support for marginalized students, she said. 
"Those kinds of things stand out to me," she said. "They will have lasting impact in terms of helping students to thrive and survive."
Heading-Grant also said the Andrew Harris Commons is one of her proudest achievements, a space on campus dedicated to UVM's first African American graduate. 
As a Black woman, Heading-Grant said her presence adds to the composition diversity of UVM, but her contributions to the University have gone far beyond that. 
"[I brought] my whole self, my authentic self, my cultural self here," she said. "Having my voice be heard around things I would like to see in place, I think I have been an advocate, and at times in my life an activist."
Heading-Grant is one of few people of color in UVM's administration. According to UVM diversity data, only eight people in UVM's office of administration are people of color. 
Although UVM still struggles to recruit and retain faculty of color as well as students, Heading-Grant said diversity at UVM has improved since she was a student. 
When she began her education at UVM, Heading-Grant said it felt extremely unfamiliar. She could go a week or more without seeing anyone who looked like her. Now, she said, she feels a much stronger sense of community. 
"I can sit here and feel confident in saying that there have been a lot of things that have changed for the better," she said. "I'm happy that I can also attach my name to some of that along with my other colleagues."
Heading-Grant said she plans to return to UVM as a friend, supporter and community member.
"Wouldn't it be fabulous to be a board of trustee at the University of Vermont, that's on my bucket list," Heading-Grant said. 
She also emphasizes the impact that her colleagues had on her, both in her personal life and her career. 
"Talented as I am, that has been a result of having people who have nurtured me through a culture of helping to lift me and give me direction," she said. "I want to thank my DEI family in the division for all of their help and support."
Heading-Grant hopes to see UVM continue to expand its work around diversity, equity and inclusion and create more programs for marginalized and underrepresented populations, as well as foster a climate where everyone is heard and respected, she said. 
"I want to be able to feel it and touch it and taste it. What's being served for meals, the programs, who's coming, who's speaking, the courses that are being offered," she said. "I want to be able to see it in the faculty members and the staff and the students that I pass walking."
Heading-Grant said she looks forward to creating new relationships in the community at CMU.
"I get to introduce them to Dr. Wanda Heading-Grant, introduce them to Wanda, to Miss Grant, and to introduce them to mom and big sis," she said. "They'll get all these multiple identities that come together to align and make me happy but also allow for people to get the best of who I am."
Heading-Grant's job title at UVM was changed last year to put more of a focus on her work with diversity, equity and inclusion. Heading-Grant said this put more of a spotlight on issues at UVM, and a spotlight on her which resulted in widespread recognition including from CMU.
"My hope is to help them recruit and retain BIPOC talent, and to create a climate that is not only inviting but is truly welcoming," she said. "I want to be a beacon of light that's saying, we truly value our words, through our behavior around diversity, equity and inclusion."
The display created in UVM's Davis Center, Celebrating Diverse Voices, was dedicated to Heading-Grant this February, and she said she was brought to tears by its message.
"To have my name attached to something that is intended to lift up marginalized and underrepresented groups, making it visible that we're very much a part of the University of Vermont, and it would not operate very well without us, I love that," she said.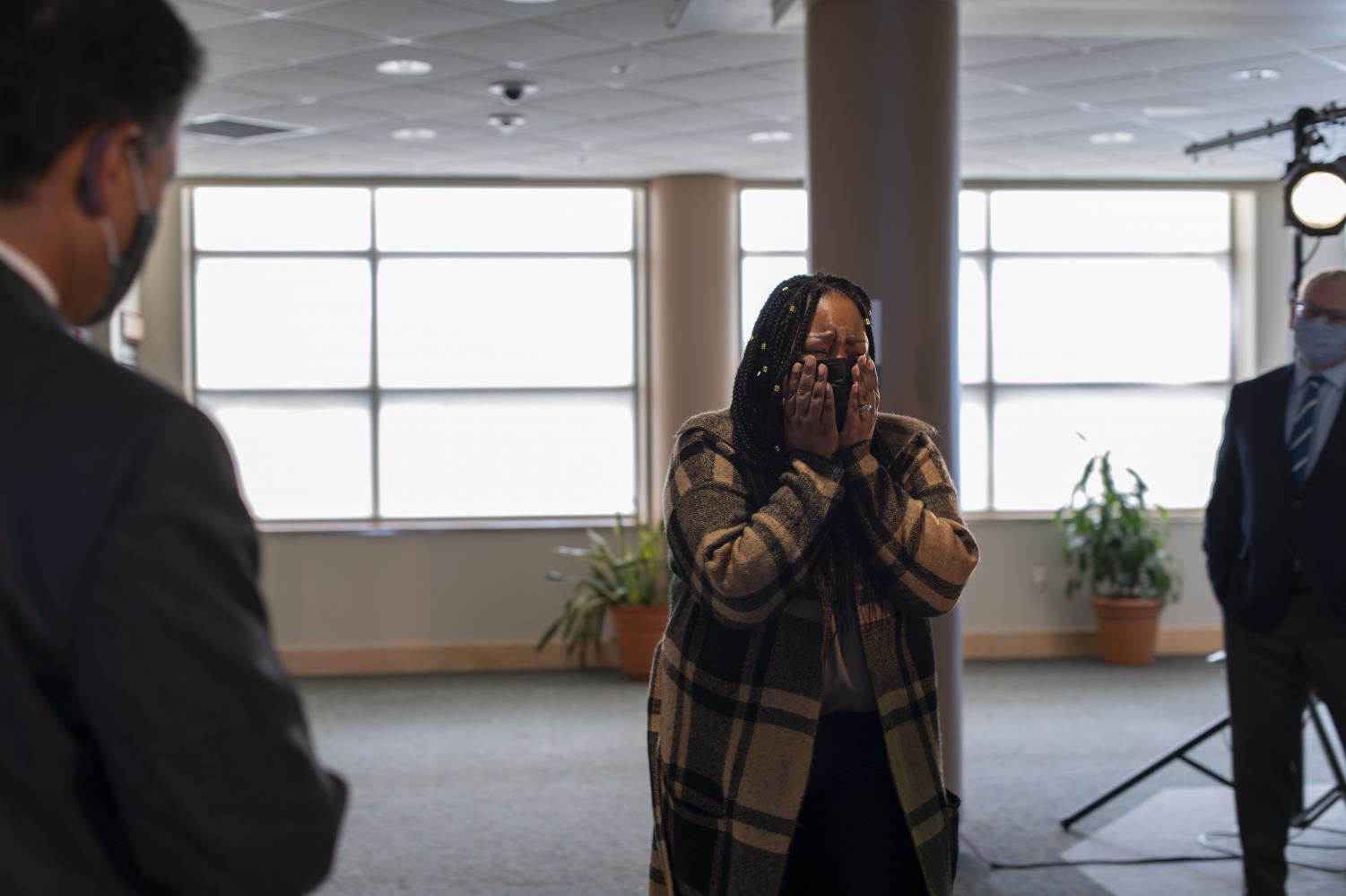 Leave a Comment