'No, not a chance,': Professor says he won't resign despite thousands calling for action following 'racist' videos
Kate Vanni, Assistant Managing Editor
March 16, 2021
Following mounting calls for his resignation, a UVM professor that posted a video on the internet decrying supposed white discrimination on campus a week ago says, he's not leaving.
The new video is the third in a series UVM professor Aaron Kindsvatter, a professor in the College of Education and Social Services, has uploaded to YouTube to share his views on "critical social justice" and the targeting of "whiteness."
Kindsvatter's first video, posted March 8, has so far amassed more than 16,000 views and quickly prompted a petition, calling for his resignation. In a March 14 email to the Cynic, Kindsvatter defined "whiteness," as "a way of dehumanizing people to meet or gain compliance with political ends."
The second video, which was only briefly online before being removed, asked viewers to email UVM administrators in protest of the proposed anti-racism policy being introduced to his college.
In his most recent video, Kindsvatter said the attempt to get him to resign won't succeed.
"First, my answer: 'would I please resign?' No, nope, not a chance," Kindsvatter said. "Never gonna happen; no way. I hadn't even thought about it, not for one second; no."
The petition calling for his resignation was started by Senior Josephine Mercado and has received over 1,800 signatures. Among the student signatures were those of UVM faculty and staff that too want to see Kindsvatter leave UVM.
In this most recent video, Kindsvattar includes a message to the creators of the petition as well as counselors who signed the petition.
"Would you tell me, as one of your counseling clients, at that point when I came in, that I was in fact, racist? That I would only find salvation when I bought into your ideology," Kindsvatter said. "Or would you wait until I was doing better…before you let me know that I was a racist?"
Kindsvatter also said this is a complicated question that his viewers should be considering. 
In a March 15 joint statement, Provost Patricia Prelock and CESS Dean Scott Thomas stated Kindsvatter's videos do not reflect the values of UVM or their community. 
"We will continue to lean into our [diversity equity and inclusion] efforts, and in so doing, create further opportunities to strengthen our community," the email stated. "This event has given us further clarity and resolve about the importance of our commitment to our Common Ground values and DEI work."
The email stated that UVM is immediately taking steps to help students who no longer want to be taught by Kindsvatter, offering alternative courses by different faculty members so the students can still meet their program's requirements.
"We know there is anger, pain, and sadness when the lived experiences of individuals committed to DEI are denied or diminished," the email stated. "We hear you, and we value the voice you are giving to the concerns many of us share about these messages."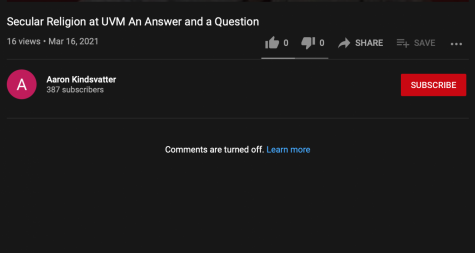 Kindsvatter ended the new video by asking his viewers to share their thoughts, but the comment section on the video has been turned off.