Student groups split on supporting a candidate for Burlington mayor
A contested race with three frontrunners for Burlington Mayor—one Democrat, one Progressive and one Independent—  has student groups split on who should be the next leader of Vermont's Queen City. 
Residents will elect the next mayor of Burlington on Town Meeting Day today, choosing between incumbent Democrat Miro Weinberger, who has served in the position for nine years, and a number of challengers, including Progressive candidate Max Tracy and Independent Ali Dieng. 
While many UVM student groups are backing Tracy, others are refraining from endorsing any candidate. 
UVM Democrats:
Despite the democratic mayor's bid for reelection, UVM Democrats decided not to endorse a candidate for the mayoral race. 
UVM Democrats is a political student group on campus who works to engage students on the principles of the Democratic Party while supporting democratic leaders. 
This election however, is different, according to the club's President Owen Doherty. 
The UVM Democrats Executive Committee came to the conclusion that they would not issue any formal endorsements in the 2021 Town Meeting Day season.
"Burlington is not immune to the sort of toxic political climate of our national politics," Doherty stated in an email.
The president said they decided not to endorse a candidate because of "multiple occasions of members being harassed due to positions they have taken publicly."
However, Monday morning, Weinberger posted a photo on twitter, tagging @UVMDemocrats and thanking them for supporting him. 
When asked if this meant the group's stance had changed, Doherty stood by his statement that the club did not endorse a candidate, pointing out that while some members chose to participate in a honk and wave for Weinberger, it does not speak for the entire club.
"There was no coordination with the campaign for this and the club never told the Weinberger we had endorsed, nor did the members know that the club would be tagged in the tweet until after," he stated. "It would be unfair for a minority of club members to speak for an entire club." 
The group said they will continue to send out volunteer opportunities for the Democratic-endorsed candidates in Burlington.
UVM Votes:
One student group, UVM Votes, is encouraging students to vote in the election no matter which candidate they support. 
Founded by Junior James Tedesco, UVM Votes is a nonpartisan group that focuses on creating voter access among students rather than centering on single candidates or issues.
Tedesco said students are an important voting demographic because they make up a large percentage of the population and have a unique perspective on activism.
"In college students, we see energy and the available time to engage with the political system and advocate for change," he said.
UVM Votes has been focusing its efforts towards getting the word out by coordinating with other parts of the University, such as the Civic Engagement Office and UVM Bored.
"In some ways, I think it's easier to get jazzed about a campaign than it is about the abstract principle of voting," Tedesco said. "But there are some walls around what we're doing."
The group also collaborated with Professor Lacy Sloan from the College of Education and Social Services to organize a public forum event with all the mayoral candidates in attendance.
Events like this forum are important for students to attend because they help rouse students to take action in local politics, which will lead to an interest in politics on a broader scale, Tedesco said.
"I don't think we can have an expectation of grandiose concrete change that's going to stick without first seeing it tested at local levels," he said. "It starts at local municipalities, it starts in a single city."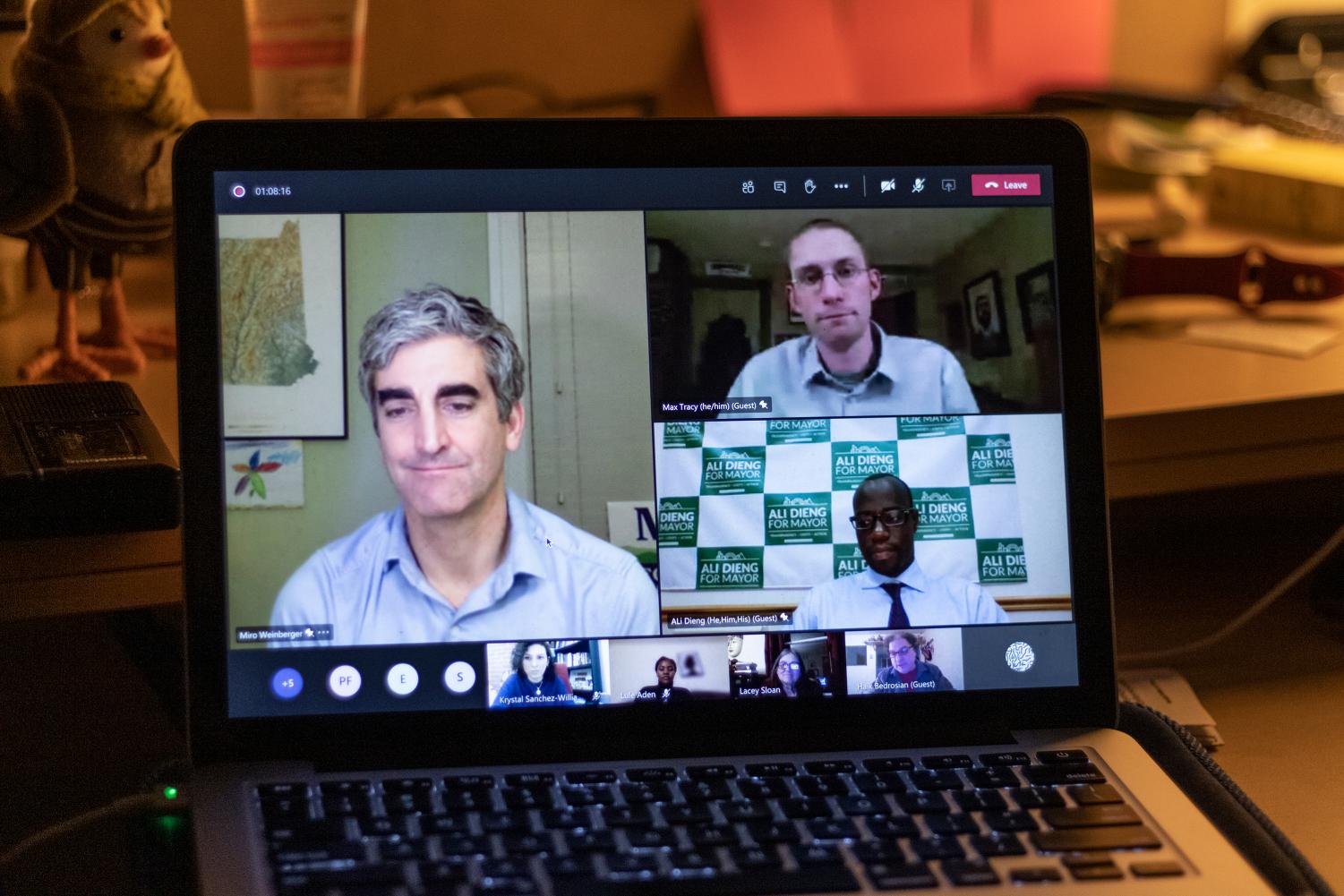 UVM Progressives
:
Another campus group, UVM Progressives, is dedicated to electing progressive candidates and advancing a progressive platform. 
The group held a small virtual event with Progressive candidate Max Tracy last Monday, where he praised the group for bringing "energy and excitement" to on-campus Progressives, something he wished had been there when he was a student at UVM.
"He's been super outspoken about labor issues," Sarah Sciortino, president of UVM Progressives said. "It's really exciting because so many people in our group are activists." 
A former UVM student and employee, Tracy said he is no stranger to activism on campus, where he worked to try to create unions for staff.
"I was involved in several different union drives on campus trying to make sure that staff have a union," Tracy said. "We were unsuccessful, which is why the staff are still doing that and still working on it, and are likely to vote on that again at some point in the next couple months."
The club has also been vocal in support of Tracy's policies on renters' rights. Tracy said he understands the issue first-hand because he is a renter himself. 
"He actually understands what it's like to be a renter and deal with rising rent here and all of the issues that come along with being a renter," Sciortino said.
His campaign staff includes former UVM Progressives Carter Neubieser and Betsy Mcgavisk.  
"We're obviously really excited about Max," Sciortino said. "He definitely represents a lot of what we stand for and that's something that's really exciting for me and so many other people." 
Additionally, Sciortino said that students don't participate in these elections because they assume they are not eligible.  
 "If you have an apartment, if you have a Burlington address, you are a resident. So everyone who lives in Burlington right now can and should vote," she said. 
"If Max wins it's going to be because of students. Bernie only won by 10 votes in 1981. You could be one of those 10 votes so make sure you get out there and register."
She said UVM Progressives has seen a substantial growth in members since Max's campaign began, now totaling to 52 current members.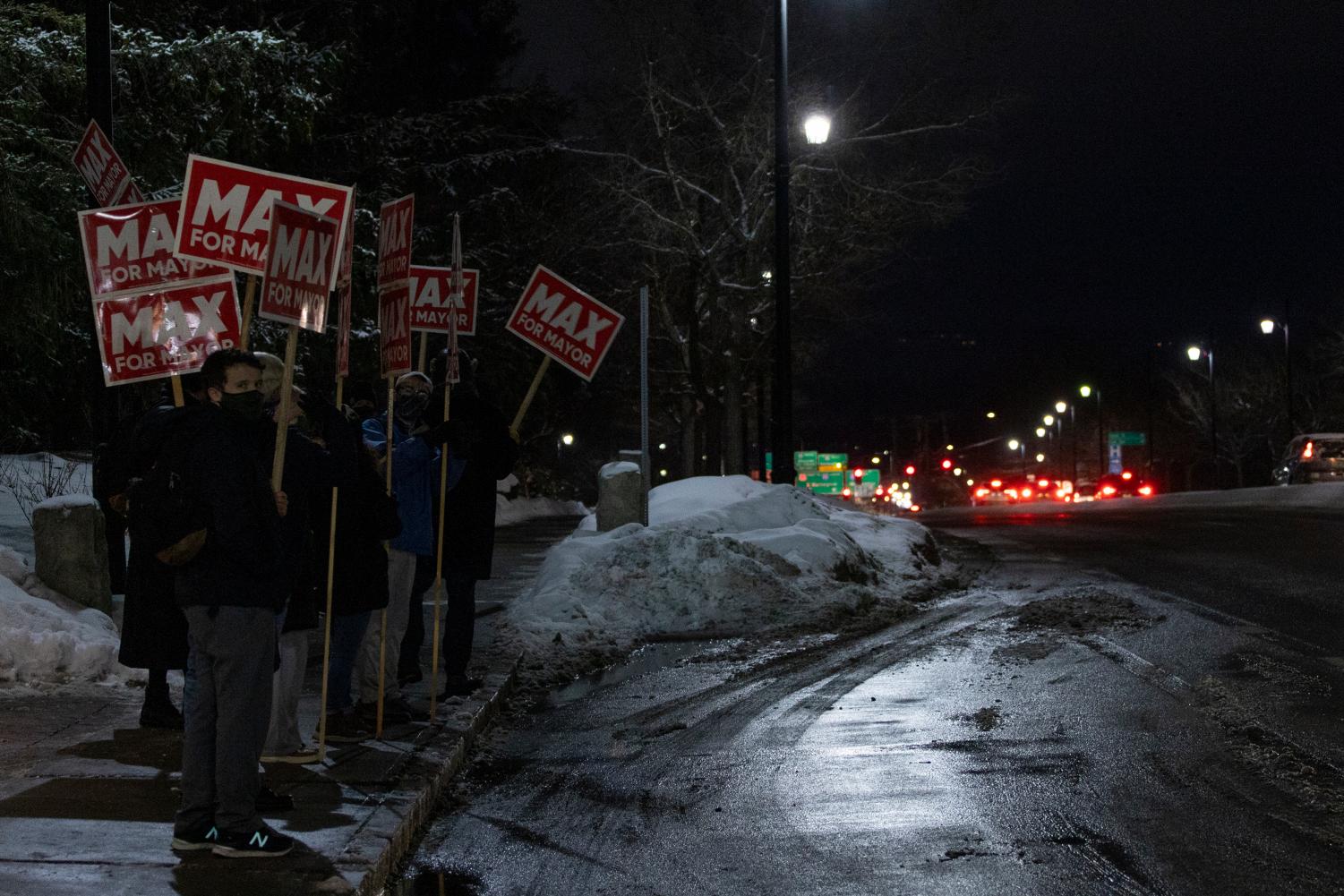 Sunrise Movement BTV:
Environmental activism group Sunrise Movement endorsed Tracy for the second year in a row after, last year for city council and this year for mayor. 
The Sunrise Movement is a national organization devoted to advocating for climate justice through policy. The Burlington chapter is not exclusively students, but has a large student base.
Junior Emma Page, a member of the group, said she likes that Tracy has been an outspoken progressive in his council work.
"I really believe that he is one of the reasons why the Progressive Party has had so much success, " said Page. "At city council, he is always one of the most outspoken members in addressing the climate crisis."
Tracy's party affiliation is especially important to the Sunrise Movement, Page said.
"If we can get people up to vote in this election, we will literally be one of the only places in the country that has a third party running the city," Page said. "I think that that is such a powerful message."
Page said she hopes the student demographic will show up to the polls, but has little confidence that her peers will take the necessary steps to do so.
"We're a politically charged campus, but when it comes time for people to be educating themselves and taking those steps on a local stage, students are a little bit more reluctant to work," she said.
UVM Union of Students:
The Union of Students is also endorsing Max Tracy.
The Union of Students is a coalition of students pushing for equity and change on campus. They have previously spoken up on issues such Black Lives Matter, program cuts and police defunding.
The group took a vote at their February meeting to decide who to endorse, and agreed unanimously on Tracy.
UVM Republicans:
UVM College Republicans stated they have no plans to endorse a candidate for mayor nor will they be participating in any campaigning, according to the groups' president Delaney Courcelle.
The group also refrained from endorsing a candidate in the 2020 presidential election. 

View Comments(1)