Students begin move-out under strict COVID-19 guidelines after months of waiting
After almost three months of waiting, on-campus students were finally notified of a detailed dorm move-out plan that starts as soon as this weekend.
Vermont residents will be the first group to move out of their dorms May 29, 30 and 31, according to a May 22 email from Rafael Rodriguez, the executive director of ResLife.
Out of state students received emails May 27 detailing that some would have to move out as soon as June 12.
With little notice to prepare, students and their families must follow Vermont COVID-19 guidelines, which may make move-out logistically difficult. 
"In accordance with State regulations, students and their one guest must meet strict criteria in order to return to campus for move-out," the emails to students stated.
This criteria could pose challenges to students and their families, especially those traveling from out of state.
"Students and their guest living outside of Vermont must have self-quarantined and practiced social isolation strategies for at least two weeks prior to the move-out date," the website stated.
However this means some students only have two days notice until they must start quarantining.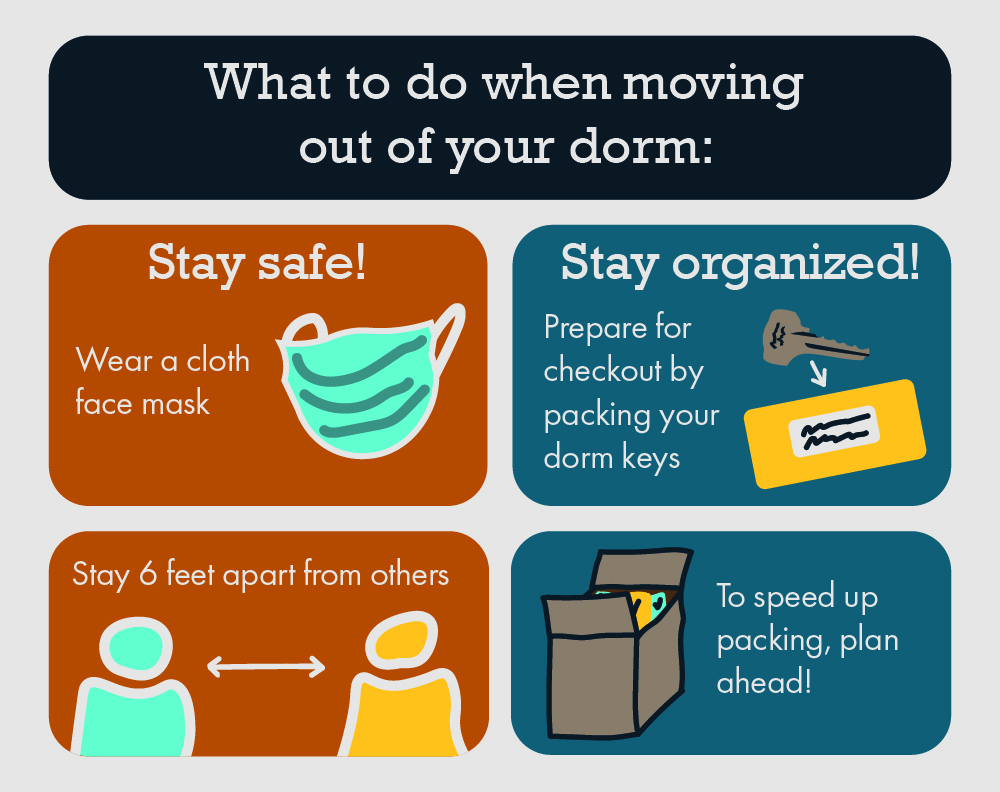 For students living with their current roommate again next year, ResLife is packing up their things, relocating them to their new room and charging them $150 to do it. The email noted that you can indicate on your move-out form if you need financial assistance to cover this cost.
"Residential Life is offering to take the lead in packing your belongings and relocating them to your Fall 2020 assigned rooms," the email stated. "There is a $150 cost associated with this service which will be billed to your account."
The email did not state if students are able to decline this offer from ResLife.
The criteria also does not allow off campus students to stay overnight in Vermont, due to the Vermont Travel and Lodging COVID-19 orders. 
This could be an issue for out of state students who have to fly to get to campus like first year Elena Guylay, who lives in Idaho. 
"I can't go if I can't stay," Guylay said in a May 23 interview after seeing the guidelines on the ResLife website. "I don't know whats going to happen." 
However, ResLife informed her in the May 27 email that she does not have to return because she is living with the same roommate in the Fall as she did this year. 
Guylay said she brought home only what she needed for spring break, leaving the rest of it in her dorm. 
"I didn't move out since I was thinking it was just spring break," she said. "So I took stuff for one week and notebooks." 
Once students have arrived at UVM, they have a maximum of three hours to get their belongings, according to the website. Students should also limit trips to their cars, it stated. 
According to a Cynic survey with 325 responses, only 22.5% of students completely moved out, leaving 77.5% with stuff still in their dorm rooms. 
Leave a Comment