UVM President reflects on leadership amid COVID-19 pandemic
UVM President Suresh Garimella said a year ago, he would have never thought he'd be leading a University through a pandemic.
Now, as his first year as president nears its finish line, he's had to make tough decisions as students, faculty, staff and parents have all asked, what's next during this global pandemic.
On March 23, Garimella announced that all course work for the spring 2020 semester would continue remotely because of the COVID-19 pandemic, effectively ending his first year without students on campus.
Although the students may be gone, Garimella said his job is far from over.
Garimella took the time to answer some of our questions about how he's handling this international health crisis. Here's what he had to say.
Q: President Garimella, did you imagine a year ago you'd be dealing with a situation like this?
SG: I wouldn't have imagined anything like this a year ago. And that goes for the whole University, that's true of the state and globe too. The whole world is grappling with this.
Q: What do you see as challenges going forward?
SG: One of the challenges is that there are a lot of indications that this is just the beginning and I think the depth of where this will end is unknown.
I guess that's what worries me more than handling the issues at hand today.
But UVM is a great place. We've been around for a long time. There are excellent programs, a supportive board of trustees, great alumni — all of that helps.
The fact that we're not such a fractured place helps. I do believe we're up to the challenge.
Q: What's guided you through this difficult process and time?
SG: It's not easy. There's no script for this stuff. Nobody has a script and different people are doing different things.
I've certainly tried to avoid jumping on a bandwagon, just because it's what everyone else is doing.
What I've done is what I think most thinking people in this position would do.
Like consulting with our own campus public health experts…the Vermont Department of Health, which has actually been an extremely strong partner and a beacon of light, in an otherwise noisy domain.
The CDC for sure, other government agencies. Of course, we look at what other similarly situated research universities are doing. We can't always compare ourselves to Yale or Harvard, but we look at other schools to see what they're doing.
I get, as you might imagine, plenty of feedback from our students, parents, staff, faculty, friends, not so friends. All that, and so kind of processing all that and we have a very good team here. The Emergency Operations group led by Gary Derr is hearty.
I have my own team, you know the Provost [Patty Prelock], who has been here a long time, our treasurer and CFO [Richard Cate] who has been here for a long time, Sharon Reich Paulsen who is my chief of staff and general counsel.
And all these folks, we meet very often and I don't have the hubris to say 'I know what to do, provide me with the information and I'll come up a decision.'
We've all been agonizing on these things, going back and forth, and coming up with some decisions. Any decisions we come up with, we're also humble enough to say that was a decision for then and we may have to change it the next day.
It's a lot of work, a lot of meetings, a lot of conversations. I'm quite comfortable with the core structure that has led to these decisions so far.
Q: Now that everything has gone remote and social distancing is in place, what does the day-to-day life of the president look like?
SG: It's nothing like it was before. Seriously, the thing I'm disappointed about, I mean I'm quite resilient, things don't get me down, but I'm disappointed that our selective attention is called away from the central business of the University.
Of course, we're keeping up with it, but collectively across the University, we were on the verge of big things, we had already done some things, plans to grow our resources and our engagement with the State.
So, I wish we could spend more time with it, but I've not lost track of it. I'm really trying my best to compartmentalize and not lose track of the big picture, with our board, with our leaders, with our faculty.
But that said, I'm heartened by the resilience of our students and the dedication of our faculty members rising to the challenge. It's not easy, some are more familiar with technology than others and I know every single one of them is trying their best.
Of course, our staff often don't get spoken of, which is why I've made a particular point of addressing them in every memo, whenever I see them or talk to them I thank them as well.
The day is different, all day Saturday, all Sunday we were on calls with the board chair and others in the community. It behooves us to keep up with as much realtime information we can gather, so we can make the most informed decisions.
Q: What do you want to say to students right now, in light of physical classes being canceled for the rest of the semester and the potential for graduation ceremonies to be canceled as well?
SG: That sucks no? I'm really really not happy, I told a lot of people at Convocation that I was looking forward to shaking their hands in four years, but I was also really looking forward to shaking this year's senior's hands too. No shaking hands of course now.
What I want to say to the students, is that again, as a parent myself, as a faculty member for the past 30 years…I've been to every single ceremony. So it means a lot to me, I know it means a lot to the students and the parents, and Burlington in May is often beautiful and nice.
So, obviously, it's disappointing, but I would just say I remind myself and anyone that wants to hear me that much of the world is going through an enormous hardship.
So we should try to put this in the context of hundreds of thousands, maybe millions of people, maybe losing their jobs and worrying about sick parents, sick children.
We should grieve for this. We'll do the best we can. But, we'll try to do something that is the second-best, as good as we can, but I think there will be more challenges before this goes away. I think job markets, finances, the country's capability in these spaces will be seriously impacted.
I think we're all going to have to draw deep inside ourselves and give our time and resilience. I know our students will and I think there will be challenges.
We're encouraging our faculty to be cognizant that these are challenging times.
I would like to tell the students that I'm thinking about that, they are what drives me. And I will communicate as often as I have something meaningful to say.
Leave a Comment
About the Contributor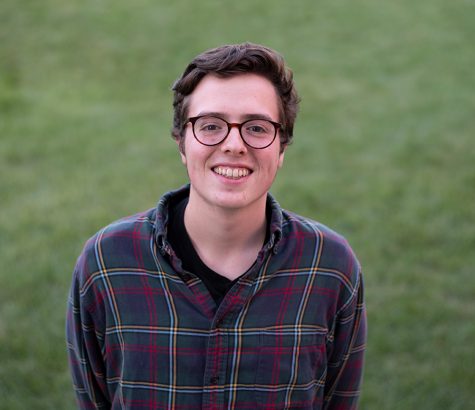 Sawyer Loftus, Editor-in-Chief
Sawyer Loftus is the News Editor for the Vermont Cynic. He is a junior History major with a passion for News. This past summer he was an intern in the...