UVM ROTC program instills community and leadership in students
On any given Wednesday, as students shuffle from class to class, a group of students stand out. 
Clad in camouflage fatigues, these students make up UVM's Army Reserve Officers' Training Corps. 
While balancing the classes and extra-circulars every other UVM student does, these students are also training to be members of the U.S. Armed Forces.
 For students in ROTC, they take 18 credits over the course of four years along with their regular course work. 
Successfully completing the program earns students spots as officers in the U.S. Army. 
UVM's ROTC program hosts students from UVM, Champlain College, Saint Michael's College and other area colleges and universities, said Lieutenant Colonel Jeremy Pitaniello, professor of military science. 
Every Wednesday the program holds classes and a lab where they learn basic conduct, leadership skills and required skills for junior officers in the military, Pitaniello said. At 6 a.m. three mornings a week, everyone attends physical training at Gutterson Field House. 
Despite these differences, almost every member of ROTC will tell you the same thing: they're just students too, Pitaniello said. 
Here are the stories behind some of those students: 
Sophomore Taylor Caitlin:
Taylor Caitlin comes from a small town. When she first got to UVM, the only other person she knew was from her town, she said. 
Caitlin joined UVM's ROTC program as a first-year and said it helped her build her community. 
"When I came to college I was really on my own, and ROTC gave me this kind of built-in family that I got the opportunity to kind of just walk into," Caitlin said. 
Both of Caitlin's parents were in the Navy, and they helped her decide to serve her country while earning a college degree, she said. 
"I already wanted that," Catlin said. "I wanted to serve my country because I grew up hearing the stories from my parents about the military lifestyle." 
Although she walks around with extra responsibilities, Caitlin said the program has been a positive experience. 
First-year Olivia Micalizzi: 
Olivia Micalizzi is new to UVM's ROTC program. She joined last semester. 
Micalizzi said she's been welcomed to the ROTC family and that the structured lifestyle helped her. 
"It keeps me very structured because I have PT training in the morning, so I'm already up early and have my day going," she said. "And then we have a class [for ROTC] once a week, which is in the afternoon." 
Micalizzi found out about ROTC her junior year of high school through her dad, who has colleagues whose kids were in the program, Micalizzi said. 
When she toured UVM, Micalizzi and her dad visited the ROTC building, and it seemed like a great atmosphere, she said. 
Her grandfather was in the Army, which influenced her decision to join ROTC and helped her understand a little bit about the program. 
"He would talk about his experience in the Army and how much he loved it and how much he learned from it," she said. "Just seeing the type of person he is and knowing that the Army helped shaped part of who he is made me want to do it."
Senior Brian Schwarzkopf:
Brian Schwarzkopf stumbled into the ROTC program his first year at UVM, he said. 
"I was walking around the activities fair and walked up to an ROTC table just to find out some more information," Schwarzkopf said. "They basically explained to me that I could try it if I want to, and I can quit anytime if I want to. So I decided to try it out, no obligation. I actually loved it." 
Schwarzkopf has remained in the ROTC program for the opportunities, especially the financial ones, he said. 
Schwarzkopf said that the scholarship he was given also encourages him to stay in the program.
"Being in a financially difficult situation, they definitely helped me out with that," Schwarzkopf said.  
By the time you get to your senior year, seniors are put into leadership positions, Schwarzkopf said. 
They're essentially in charge of the program, with some adult supervision just to make sure everyone is on track, he said. 
"We're making all the labs that we're doing, all the classes for teaching, that's all on us, and we're basically responsible for the success of developing people below us," he said. 
Leave a Comment
About the Contributor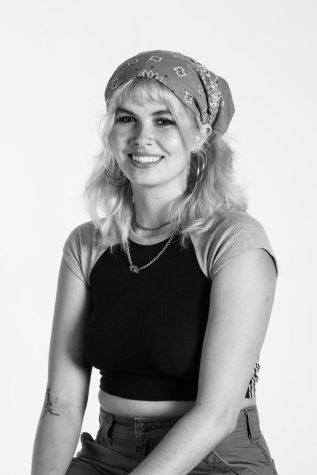 Ella Ruehsen, Editor-in-Chief
​(She/her) Ella Ruehsen is a senior environmental studies major with minors in political science and reporting and documentary storytelling. Before becoming...