Your Friday COVID-19 updates
UVM athletics cancels activities, access to residence halls becomes limited and travel ban takes effect
In the last 48 hours, UVM has made several announcements regarding how COVID-19 will affect students. Here's what you need to know:
UVM athletics cancels all activities
UVM athletics has cancelled the remainder of the 2019-20 athletic season, following a slew of other athletic cancellations.   
All team activities for the remainder of the 2019-20 academic year are cancelled, according to a press release from UVM athletics March 12. 
All practices, competitions and trainings are cancelled, effective immediately, the email stated. 
"We have to focus on our top priority, which is always keeping our student-athletes and coaches safe, and the only reasonable choice given all of these factors was to cancel the rest of the academic seasons," UVM athletics director Jeff Schulman said. 
The decision was sent out in an email to varsity student athletes. 
"These are the people who put in a tremendous amount of time and passion and effect into their academic and athletic pursuits and to have things end so abruptly is difficult," he said. "But every single one of them had handled the news just perfectly." 
He said UVM athletics made decisions alongside President Suresh Garimella and UVM's emergency operations group, which is managing the campus response to COVID-19.
All championship games for UVM's league, America East, were also canceled, according to a March 12 press release. UVM men's basketball was slated to play University of Hartford, March 14 at Patrick Gym. 
The Cats had a record of 26-7 and for the fourth straight season had earned the No. 1 seed. The team had its sights set on playing in the NCAA Tournament for the third time in four years. 
Before cancelling the games, America East had announced that it would restrict attendance to only players' family members, media and essential game management personnel. 
In the early evening, March 12, the NCAA cancelled all winter and spring tournaments, including March Madness, according to a March 12 press release. 
"This decision is based on the evolving COVID-19 public health threat, our ability to ensure the events do not contribute to spread of the pandemic and the impracticality of hosting such events at any time during this academic year given ongoing decisions by other entities," the release stated. 
The seasons for UVM men's and women's lacrosse have also ended. Both teams won their most recent games: the women 17-14 against Kennesaw State University March 11 and the men 9-8 against Dartmouth College March 7. 
Residence Hall access is restricted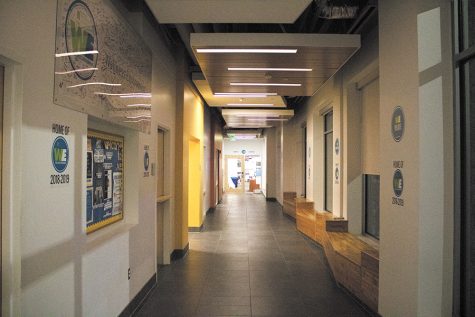 Access to UVM residence halls will be restricted in an effort to prevent the spread of COVID-19. 
UVM undergraduates will be allowed to return to their dorms from 8 a.m. Saturday, March 14 until 10 a.m. Wednesday, March 17 to gather "essential items necessary for remote instruction," according to a March 11 email from Rafael Rodriguez, director of Residential Life. 
Items deemed essential include laptops, medications, passports and books. 
The timeline has been put in place to be consistent with the University's commitment to the "social distancing" strategy recommended to slow the spread of COVID-19, according to the March 11 email. 
Students are "strongly encouraged" not to return to campus residence halls, according to a March 12 memo posted by Rodriguez on the UVM COVID-19 website. 
Only undergraduates with explicit need to return to the residence halls and approval from ResLife will be allowed to do so. 
Explicit need is defined as students who have no other place to live and depend on their meal plan for access to food, according to the COVID-19 Housing Planning Form that on-campus students must fill out before being allowed back into their dorms.  
Sophomore Ben Bieri posted a form on Facebook and Instagram to document the concerns of students who must return to live in the residence halls. 
"I made the form because I'm a student who is going to be on campus," Bieri said. 
Bieri's immediate family lives in Vietnam and he cannot financially afford to leave the country.  
Bieri's form consists of three sections, labeled "concerns, fears you may have, and things you need clarified." In less than 24 hours, it had over 20 responses. 
Many of the responses centered on uncertainty around access to food services, including dining halls. 
Three dining halls, Harris Millis, Simpson and Central, will remain open, according to the UVM COVID-19 website. 
Bieri said the groups most likely to need to stay on campus include students who cannot afford to travel home, students who rely on their jobs in Burlington for financial stability and students who require access to resources like Student Accessibility Services. 
"My long-term concern is what will happen if our University shuts down," Bieri said. "I think there needs to be more transparency as to what will happen if things get worse."
UVM bans all travel
UVM has banned all international and domestic travel for University-related business for students, faculty and staff. 
Following global health advisories from the U.S. Department of State and Centers for Disease Control and Prevention, UVM has issued a travel ban effective immediately, according to a March 13 email from Gary Derr, vice president for operations and public safety. 
"This action will apply regardless of the funding source/sponsor for the travel. Exceptions to this ban will be made only in extreme circumstances," the email stated. 
Students currently abroad have also been told to return to the U.S. as quickly as possible.
"
"I had to fight tooth and nail to get UVM to allow me to go to Switzerland. I finally got all my paperwork in last week, only to have the whole trip be cancelled. It really sucks.
— junior Nellie Stidham
Those returning to the U.S. from abroad, especially Europe, China, Iran and South Korea, are encouraged to self-quarantine and avoid contact with others for 14 days, the email stated. 
Personal travel is also discouraged.
Junior Nellie Stidham, who had plans to study abroad in Switzerland this summer, said she was disappointed when her program was cancelled. 
"I had to fight tooth and nail to get UVM to allow me to go to Switzerland," she said. "I finally got all my paperwork in last week, only to have the whole trip be cancelled. It really sucks."
Stidham said UVM should try to be more transparent to students. 
"UVM thinks they're on top of things, but there's not enough information for students for us to feel like we're on top of things," she said. "How are we supposed to know how to deal with all this? We just don't know what's going to happen." 
UVM has extended spring break for students until March 17, with remote learning beginning March 18.
Cynic News Reporters Irene Choi and Lilly Page contributed reporting. Assistant News Editor Maryann Makosiej contributed reporting. 
Editor's Note: The Cynic is closely following updates regarding COVID-19. To read more visit: https://vtcynic.com/tag/covid-19/