Basketball clinches quarterfinal win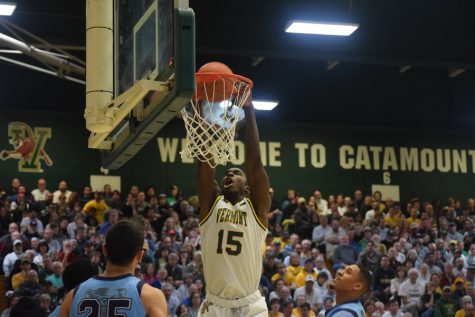 The UVM's men's basketball team defeated Maine 73-57 in their first American East playoff game this season, according to UVM Athletics.
The March 11 game  was the fourth time in a row UVM has met the University of Maine Black Bears in the playoffs, where the Catamounts continued their winning streak, according to UVM athletics.
Forward Anthony Lamb, a junior, scored 34 points and was one of the two Catamounts to reach double digits in points.
Guard Stef Smith, a sophomore, scored first for UVM, making his only three point shot of the game after an early Maine turnover.
The Catamounts continued to extend their early lead, scoring seven of nine attempted shots compared Maine's one to five ratio,  giving UVM a 15-2 lead five minutes into the game.
Lamb, immediately after a timeout, scored a three pointer, one of four he scored in the game.
He said that the key motivator during this game was if UVM lost, then they would be out of the playoffs.
"It feels like I can really open things up now," Lamb said. "If you lose any of these games then you go home, and that gives me a lot of motivation coming into the playoffs."
The UVM bench outscored Maine 14-11, which included forward Ryan Davis, a first year.
Davis was able to get his first basket off an assist by guard Ernie Duncan, a senior. Davis ended the game with seven points and three rebounds.
Ernie Duncan only scored one basket in the first half, but after the second he had earned 12 points and was UVM's second highest scorer of the night.
He said that he takes pride in being able to make the right play in order to help the team.
"Every time I do get the ball in the paint, I tend to make the right decision and find the open guy," Ernie Duncan said. "I take pride in letting the game come to me, and making sure I take the right shots."
He also complimented Lamb on his performance during this game.
"You can tell he is in playoff mode," Ernie Duncan said. "He had a different mindset, and is taking advantage of the moment."
Although head coach John Becker was proud of the win, he said that his team needs to work on having more consistent play on defense.
"Its one and done, it's the playoffs," he said. "These guys have done a great job to prepare every game and play really hard, and my expectation is that these guys will play really hard for the rest of the year."
Lamb also said that defense is the most important aspect come playoff time.
"I know I need to tighten up on the defensive end, because I know I will see double teams on offense later on," he said.
The Catamounts semifinals game with be 7 p.m. March 12 against Binghamton at UVM.