Men's basketball claims their second consecutive playoff win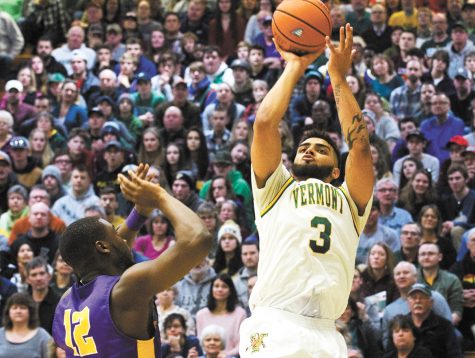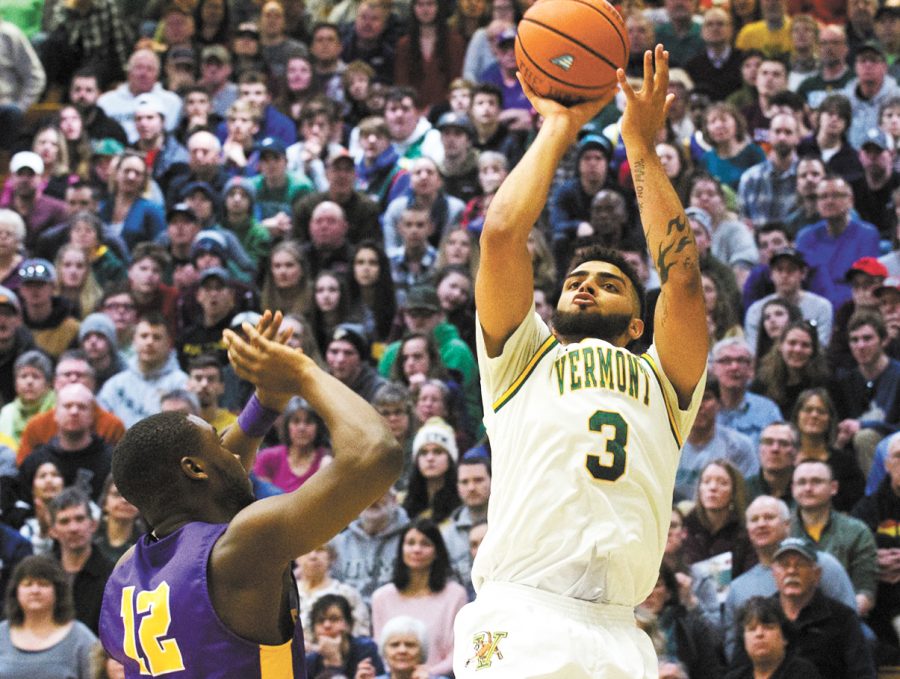 The UVM's men's basketball team defeated Binghamton 84-51 to advance to the American East title game, according to UVM Athletics.
This is the third time the Catamounts have beat Binghamton this season, according to UVM athletics.
Sophomore guard Stef Smith scored 28 points in the first half. He also scored eight three pointers to tie the second most three pointers made in tournament history, according to the American East website.
Head coach John Becker said that he was happy with Smith's performance during the tournament.
"With Stef, we knew this was in there all year," he said. "I'm really happy he had this kind of game on this stage."
Smith's shooting ability fired up both the crowd and his fellow Catamounts, and sparked a 26-2 run to end to first half.
He said that he credited his performance during this game to the program, players and coaches around him.
"My teammates and coaches have all the confidence in the world in me," Smith said. "It's all up to me to step up."
Junior forward Anthony Lamb also had a great game, scoring 18 points and having a career high seven assists.
Becker said that Lamb had a dominant presence on the court.
"Anthony Lamb's numbers don't jump out at you, but this might have been one of the best games of his career," he said. "He was in complete control."
Lamb only scored two-point shots, whereas in the March 9 game against Maine he made four out of eight attempted three-point shots.
He said that credited his career high assists to his teammates as well as their shooting abilities.
"When I know my teammates are cooking, I'm not going to try to force anything," he said on his regarding his teammate Smith's performance.
"Whenever somebody is hot like Stef tonight, it's my job to return the favor," Lamb said.
The Catamounts outscored Binghamton in the paint 32 to 14 and was able to pull down 32 rebounds to Binghamton's 20. Senior forward Samuel Dingba and Smith led for UVM in rebounds, with five each.
The UVM bench also outscored Binghamton's 25 to 14. First-years guard Isaiah Moll and forward Ra Kpedi had the most points coming off the bench with six each.
Kpedi scored all six of his points from the free throw line, which was UVM's only free throws attempted during the game.
Becker said he was proud of his team, but that they need to focus more in order to come away with the title on Saturday.
"We can enjoy this tonight, but we gotta get right back to work, because we got a great team to face on Saturday," he said. "We have another effort in us like we did tonight for sure."
The America East championship game will be 11 a.m. March 16 against the University of Maryland Baltimore County, which is a rematch of last year's championship, according to UVM athletics.
UMBC has beat the Catamounts both times they've played this season, handing UVM their only conference losses, according to UVM athletics.