Men's soccer beats Yale in second shutout of season
The men's soccer team secured a 1-0 win against the Yale University Bulldogs Saturday at the Rally Against Cancer game.
This is the second shutout win in a row for UVM, giving the team a 3-2 record for the season thus far.
This was the first time UVM played against Yale in 20 years, according to UVM athletics.
The only goal of the game was scored by junior forward Geo Alves three minutes before the end of the first half.
Redshirt first-year goalkeeper Alex Popovich said it was "one of the best halves [they've] had."
This was Alves' fifth goal so far this season, according to UVM athletics.
The Bulldogs were a difficult competitor because they ran a great defense, head coach Rob Dow said.
"We didn't get to keep the ball much," Popovich said. "Throwing the ball in the box was their game plan."
UVM did not let this intensive defensive strategy deter them from maintaining a solid lead.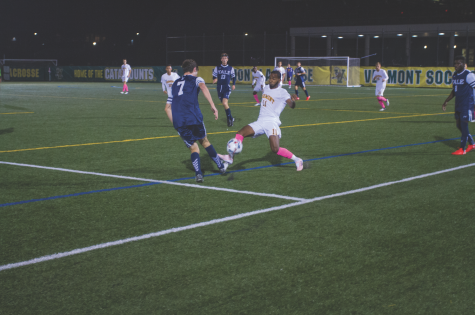 During halftime Dow addressed the team.
"We needed to be ready to respond," he said. "Eventually we did but it could've happened quicker," he said.
As first seen during scouting, Yale has a strong defense. "Once we [won] the ball, we needed to hold onto it better," Popovich said.
When junior midfielder Mikel Kabala stopped the ball in transition, it was a primary example of strengthening defense and making a key defensive play, Dow said.
However, the Catamounts combatted this difficult defense in the second half with a key play.
Sophomore defender Ivar Orn Arnason did a diving scissor kick inside the goal box to deflect a shot attempt by the Bulldogs.
It one of the best moments of the second half, Dow said.
The crowd gave Arnasson a standing ovation after this play.
"Ivar really helped me on the back post," Popovich said. "The defense really did their job."
UVM had four shots on goal whereas Yale only had three, according to UVM athletics.
"[As a team] we need to take more chances. We need to shoot," Dow said. "We did have a lot of the ball but needed to convert some of our chances and take more shots in the goal."
Now UVM will have the chance to take more risks. The next couple of games are away games on the west coast.
With this second shutout win in a row, it "really prepares us to go out there and make some noise" Popovich said.
The next men's soccer games games are 7 p.m. Friday at California State University, Fullerton and 4:30 p.m. Sunday at the University of California, Riverside, according to UVM athletics.