UVM Soccer wins first game with student crowd in over a year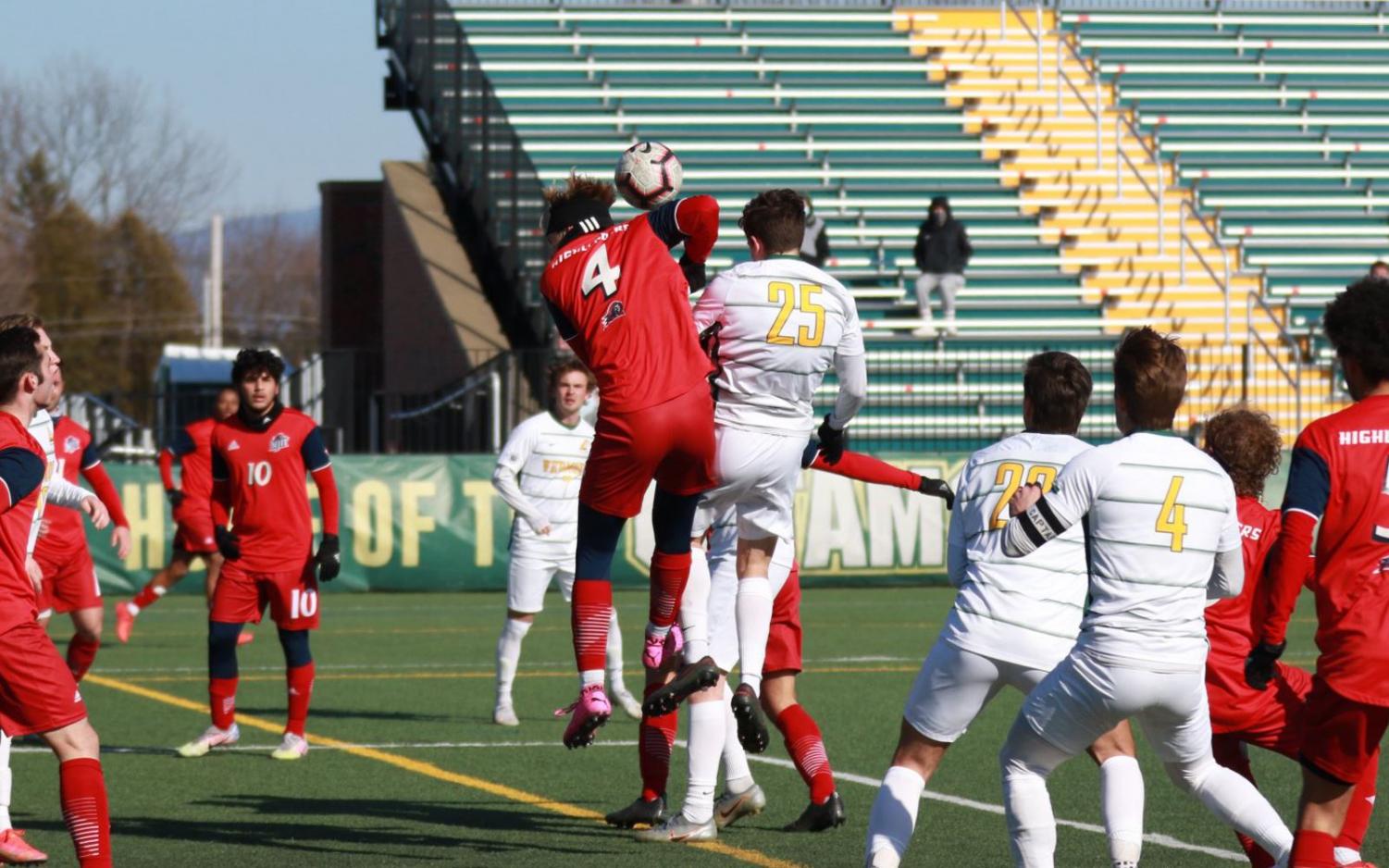 UVM men's soccer team stole a victory in the 90th minute of Friday's game in front of a sea of  fans for the first time in over a year.
The Catamounts first home game of the season March 19 pitted them against the Highlanders of the New Jersey Institute of Technology. The game began at 2 p.m. with an unfamiliar sight: a crowd of students due to recently updated regulations around outdoor gatherings.
"We've been through a lot this semester with quarantines and breaks. We've all been looking forward to games," said  sophomore starting defenseman Noah Egan during a postgame press conference. "To finally get a win here feels really good. It makes it seem like everything was worth it." 
One first-half goal from UVM and one second-half goal from NJIT set the stage for the Catamount's last minute game-winner. 
Although it was students' first opportunity to attend a game in over a year, the stands at Virtue Field never quite reached the capacity of 150. Roughly 100 students came out in the below-freezing temperatures to watch Friday's game. 
Those students who did brave the cold weather and strong winds were treated to an exciting finish.
After a scoreless tie at University of New Hampshire in their first game, the Catamounts were still looking for their first goal of the season against NJIT. 
The scoring drought came to an end just over eight minutes into the game as Burlington native, junior defenseman Evan Rouleau pushed in a goal from point-blank range, courtesy of an assist from fellow junior midfielder Alex Nagy.
Rouleau's goal caused an eruption of cheers from the students in attendance. Of course, cheers could not return to games without being accompanied by jeers. NJIT sophomore Jose Adames was a particularly popular target of Virtue Field's stands.
Despite the UVM crowd's mocking, Adames netted the tying goal in the 65th minute, thanks to an assist from midfielder Tomas Jorge. 
As the end of the game approached, it appeared as if the two teams were going to finish the game with an even score, bringing in the Catamounts' second game – and second tie – of the season.
As the clock turned to the final minute of the game, a corner kick from Alex Nagy set up sophomore Noah Egan to head-in the tie-breaking goal, putting the Catamounts up 2-1 for good.
The final score gave Egan his first collegiate goal and Nagy his second assist of the day. 
UVM will put their undefeated record (1-0-1) on the line March 23 at 4:30 against UMass Lowell when the Riverhawks visit Burlington for the first time this season.