Men's basketball heads to America East championship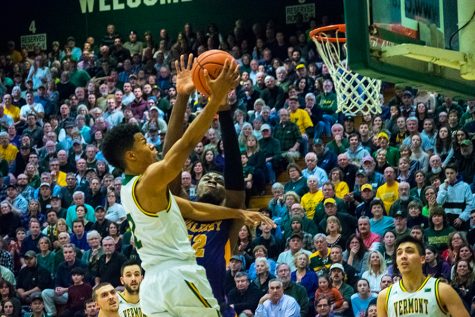 Vermont men's basketball is headed to the America East championship.
For the third year in a row, UVM men's basketball will play for a spot in the NCAA tournament and for the America East title.
Top-seeded Vermont defeated No. 5 Stony Brook 70-51 at Patrick Gym yesterday to punch their ticket to the final, which UVM will host Saturday, March 10.
Senior forward Drew Urquhart led the way with 19 points and eight rebounds despite getting into foul trouble early in the second half. Senior forward Payton Henson added 13 points, and senior guard Cam Ward added 12 off the bench.
The game was not an elegant one, dominated by physicality and fouls. Both teams shot less than 40 percent from the field: UVM shot 37.8 percent and the Seawolves shot 33.3 percent.
Redshirt junior guard Ernie Duncan made a jumper with just over 12 minutes to go in the first half to put Vermont up 7-5.
UVM led the rest of the game. By halftime, the Catamounts held a 30-21 lead.
Stony Brook came out of the halftime break flying, scoring five consecutive points to cut the lead to four. However, the Seawolves got into foul trouble quickly, putting UVM in the bonus five minutes into the half and the double bonus eight minutes in.
Forward Jakub Petras fouled out in just seven minutes for Stony Brook. Forward Tyrell Sturdivant also fouled out, and three other Stony Brook players sat on four fouls.
The Cats took advantage with solid free-throw shooting, going 29 for 37. Their defense trumped Stony Brook's offense, particularly from 3-point range, as Stony Brook shot just 15.8 percent from beyond the arc.
Seawolves head coach Jeff Boals had high praise for UVM.
"I think they can win a game [in the NCAA tournament]," Boals said. "They've proven all year long that they can compete."
UVM head coach John Becker credited Urquhart with energizing the team in the second half.
"Drew was in foul trouble in the first half, but in the second half I think he scored our first nine points and he re-established our inside game," Becker said.
Urquhart said he wasn't happy with his first half, and channeled it into his second half performance.
"I came out with some anger, more at myself than at the team or the refs," Urquhart said. "I came out hungry in the second."
The Catamounts host the University of Maryland, Baltimore County Retrievers for the championship 11 a.m. March 10 at Patrick Gym.