Many students report increased marijuana consumption as a result of the pandemic
To cope with the added stressors caused by COVID-19, many UVM students have been smoking more marijuana since the pandemic began according to a Cynic survey. 
About 65.6% of 154 respondents to a Cynic poll said they have been smoking more since the pandemic began. Another 23.8% of respondents said they smoke the same amount as before, while 10.6% of respondents said they have been smoking less since the start of the pandemic. 
The most common reasons students said their smoking habits have changed are boredom, spending more time at home and there being fewer things to do and less social outlets available.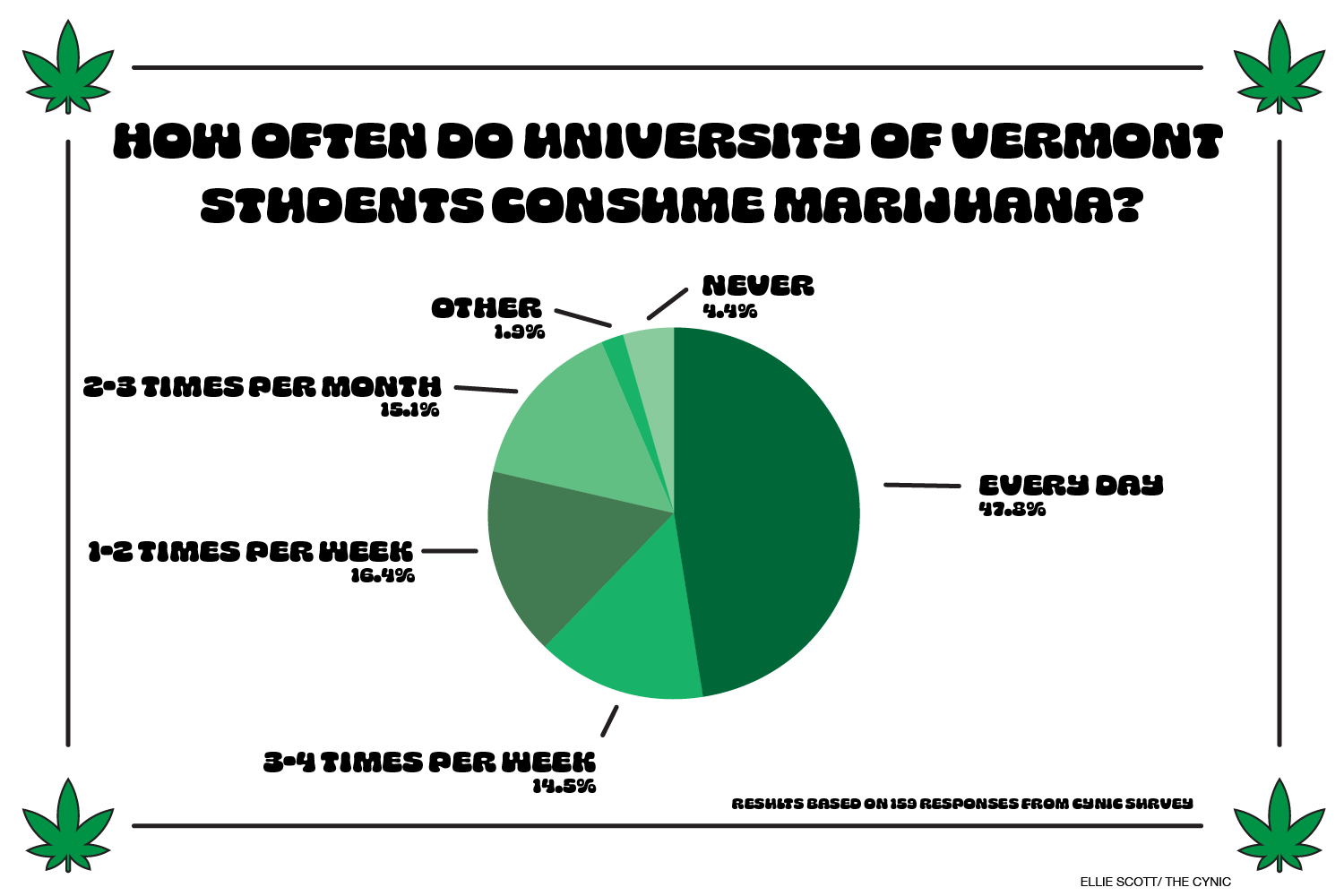 Tom Fontana, the Alcohol and Other Drugs coordinator for the Center for Health and Wellbeing, said based on his interactions with students, substance use varies from person to person, although many of the reasons behind different choices are the same. 
"There are people for whom [consumption] went up, and then people for whom it went down; why it did so is fascinating," Fontana said. "It's the exact same reason to be doing it more or less." 
When asking students why they are using more, they often say it's because they're anxious and bored — when asking students why they are using less, they often give the same reasons; the only difference is that for the latter group cannabis just wasn't helping, Fontana said. 
An anonymous student dealer said they have noticed changes in cannabis consumption among their peers.
"To be brutally honest, I didn't sell before the pandemic started," said the dealer. "I do think that in general, everyone has been consuming more, including me and my friends, it's just been happening as people are more by themselves." 
The anonymous dealer said they have witnessed an even more direct increase in sales throughout the pandemic. 
"As the cases have gotten worse at UVM and I've known more and more people that are about to go into quarantine, kids that I never sell to or rarely sell to were suddenly just like, 'I need like half an ounce of weed, I'm about to be put in the COVID dorm,'" the dealer said.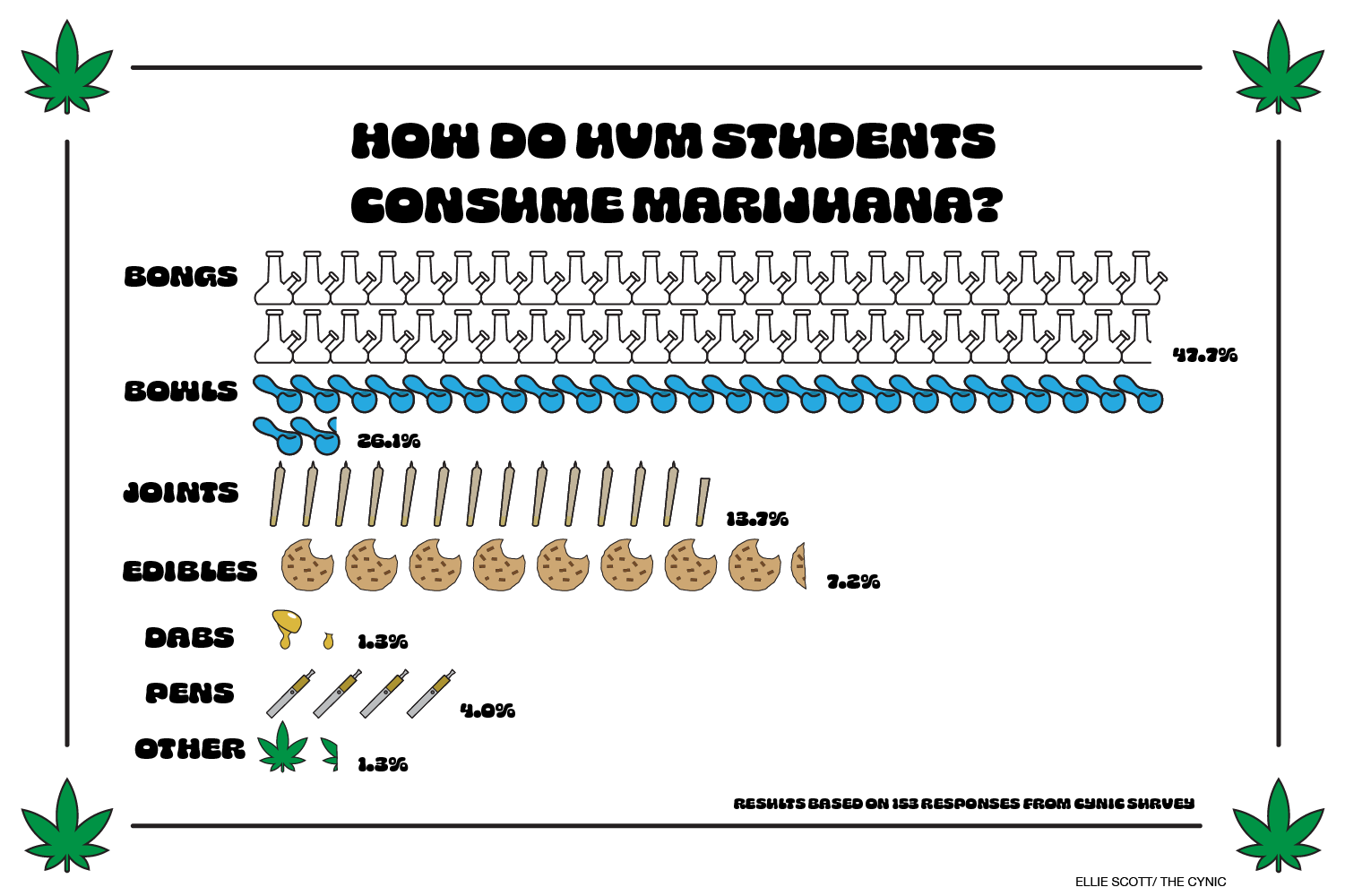 The next most common reasons behind a change in consumption by poll respondents were mental health-related including stress, anxiety and depression. 
"Life sucks and I'm less conscious of that fact when I'm high," one poll respondent stated. 
Another poll respondent stated that as someone who suffers from anxiety, cannabis helps them calm down and forget about many of the awful things going on. 
"Life was stressful enough before the pandemic," another respondent stated. "With everything going on now, it's about the only thing keeping me sane." 
Another respondent stated they're unsure if they would have been able to get through this semester without smoking. 
"If they're not giving us spring break, they're not taking away my weed," the student stated. 
The dealer said they believe that behind the boredom, a lot of people are smoking more to take the edge off of the harsh realities of this past year. 
"I think people would like to say [they are smoking more] because they're bored, but it's a lot of people self-medicating because we've all had a pretty tough year," the dealer said.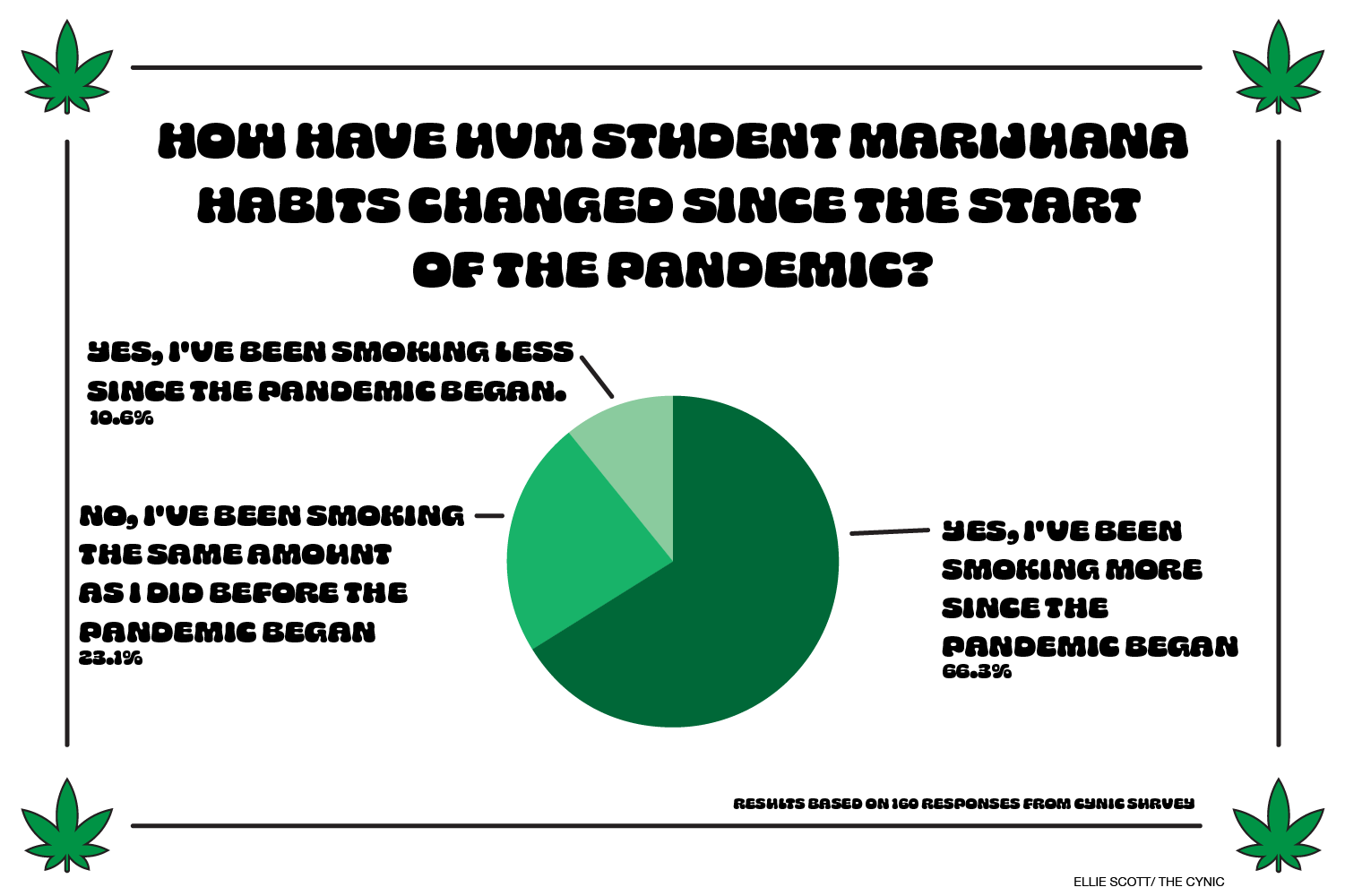 Fontana said that it's important to keep in mind that cannabis is not necessarily a lasting solution to coping with mental health issues. 
"For people who at one point enjoyed it, that can change over time," he said. "That's confusing for students because they're like, 'wait, this is fucking God's gift, this has no side effects, no dependency, this is cannabis, how am I having a bad reaction when I've always liked it?'" 
This arc has been enlightening for some students, particularly during this time, Fontana said. 
Fontana said that while people should be able to make their own choices, the narrative is complex. Cannabis is not necessarily a reliable coping mechanism in the long term because there is a muddled line between use and misuse, he said. 
"What are we doing next? If something's helping you, how do we keep it helping you?" Fontana said. 
It's important to find additional coping mechanisms that are sustainable and to look out for one another even as pandemic restrictions lift, Fontana said. 
"People are already talking about the summer and next year, how's it going to be, and that's fine — people should be ready to go out and to have a good time," Fontana said. "I just worry about those people who are feeling isolated and still will be, a few months from now."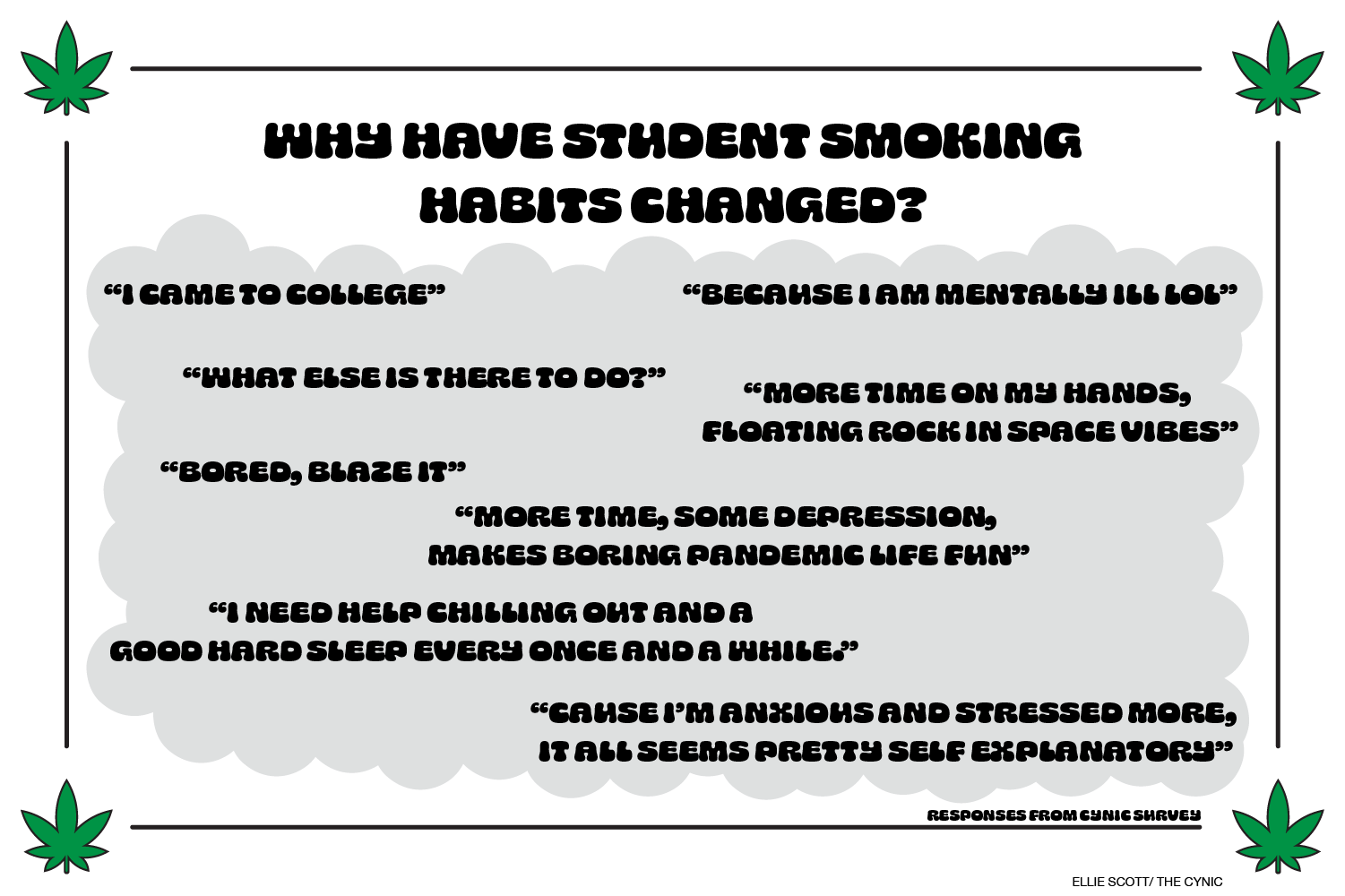 Leave a Comment
About the Contributors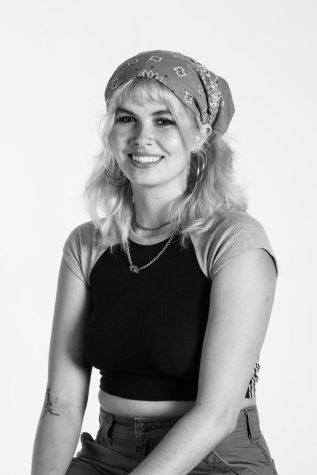 Ella Ruehsen, Editor-in-Chief
​(She/her) Ella Ruehsen is a senior environmental studies major with minors in political science and reporting and documentary storytelling. Before becoming...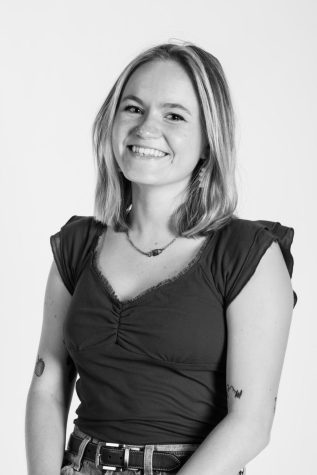 Ellie Scott, Digital Media Editor
(She/her)

Ellie is a senior public communication major from Manchester, CT. Ellie is also an accelerated Master of Public Administration student. This...