Happening now: Live updates from the Bernie Sanders Vermont rally
ESSEX, VT–Two Cynic reporters have traveled to the Champlain Valley Exposition for the Sen. Bernie Sanders Super Tuesday rally.
We will be updating this story.
6:30: As supporters start to file into the room, the room is getting increasingly hot, loud and crowded.
Future voter and first grader Ansel Eddy says he likes Bernie because he's the best candidate.
"I like Bernie because he's a really good candidate, and he has the best chance of beating Donald trump," says Eddy.
The podium stands empty but the crowd remains supportive, conversing about voting and donating.
7:15: As the supporters wait for Sanders to take the stage, they react to news coverage being projected on the wall.
As the T.V. reporters announce Former Vice-President Joe Biden winning Virginia, the crowd boos the screen.
7:45: Supporter Acelynn Victoria Wahl steps on stage and up to the podium to deliver a speech.
"When I was fourteen, I heard Senator Sanders speak for the very first time," she says. "That moment was the most inspirational moment of my life. Bernie spoke to my hopes. He spoke to the dreams of my entire family."
Wahl says her ancestors can be traced back to slave boats on the west coast of Africa.
"While I am not proud of what this country did to my ancestors, I am proud for what my ancestors did for America," she says.
After Wahl's speech, American rock band Phish takes the stage.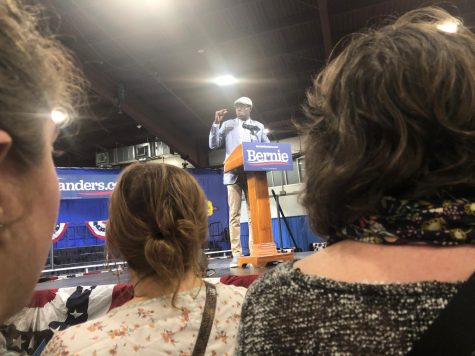 8:15: "Feel the Bern," says Phish singer and bassist Mike Gordon.
Reporters announce Biden wins Alabama.
David Paradis is a supporter of Sanders and is surprised by the recent results.
"I'm a little bit surprised that Bernie isn't doing better, it's quite sad. I can't believe Biden is doing as well as he is," he says. "Biden won't be able to get rid of Trump like Bernie can. A vote for Biden is a vote for Trump."
Regardless, Paradis isn't feeling deterred by the most recent results.
"But it's still early, so I have hope," he says.
Phish continues to play but tension grows as most eyes are fixed on the projection displaying the results.
8:45: Ward 7 Burlington city councilman Ali Dieng takes the stage minutes after winning an unopposed city council race.
"We will fight for affordable housing. We will fight for economic equality," Dieng says. "We will make sure everyone in Vermont can and will succeed."
Dieng says that after the last four years, Bernie fights for the right people: working people.
"After four years of sexism, four years of racism and all the isms that we suffered from, Bernie's campaign fights for the working people," Dieng says. "Bernie is a prophet."
9:15: Lieutenant Governor David Zuckerman takes the stage.
"After tonight will you keep fighting for healthcare for all? Will you keep fighting for the  environment?" he says. "Will you keep fighting for our children? Will you keep fighting for our families? Will you keep fighting for all of us? Will you keep fighting for Bernie?"
The crowd erupts in cheers between each question.
Irene Choi
9:20: Tensions are high as the results from 8 states are still too early to discern a winner.
Biden has taken 4 states: Alaska, North Carolina, Tennessee and Virginia. Bernie has taken Vermont.
Cheers rise as states swing to Bernie and boos as others swing the other way.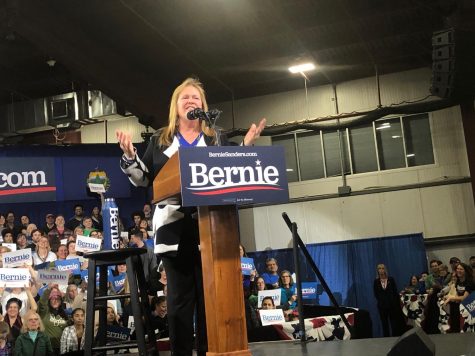 "I don't believe in Jesus Christ, but Jesus Christ I want to see Bernie," as supporter says from the crowd.
9:45: Jane Sanders, wife of Bernie Sanders, takes the stage and thanks the state of Vermont.
"Neither of us ever considered being anywhere except here tonight," she says. "Thank you, Vermont. Our motto is 'Not Me, Us' and that shows that this is a movement, not just a campaign."
She says their experience in Vermont has been valuable to their campaign.
"We have so enjoyed being a part of the Vermont community," she says. "We've been going all over the country bringing your common sense all over the country."
Sanders takes Colorado and the crowd cheers.
"I appreciate Bernie so much as a partner in life, as a father to our children, and as a grandfather to our grandchildren," Sanders says.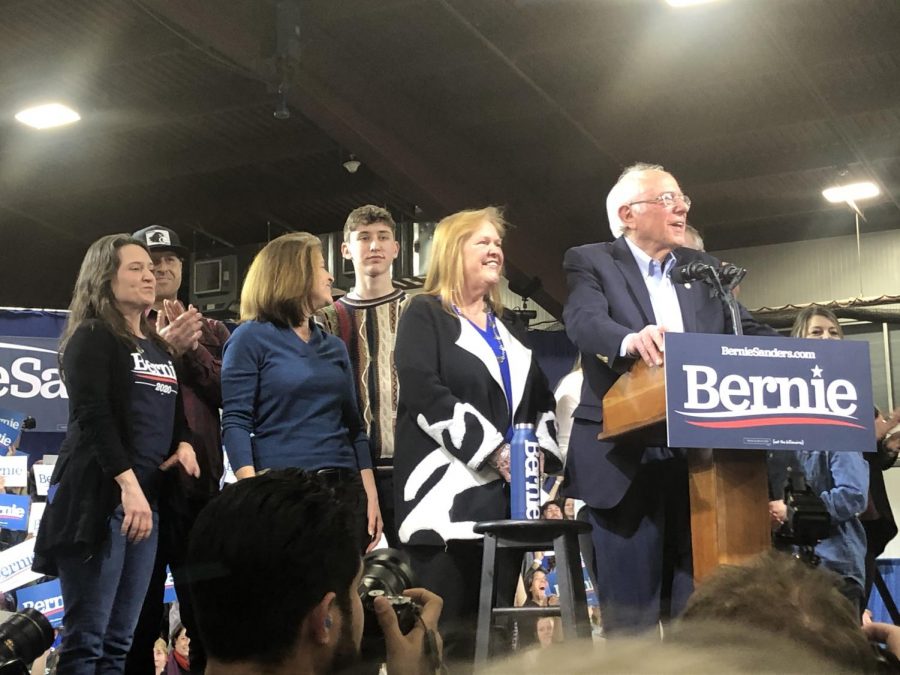 10:00: After four hours of waiting, the crowd cheers as Senator Bernie Sanders takes the stage in his home state.
"Tonight I tell you with absolute confidence, we are going to win the Democratic nomination and we are going to beat the most dangerous president in the history of our country," he says.
Sanders spoke of taking on not only the corporate establishment but the political establishment.
Irene Choi
"We are going to win because the people understand it is our campaign, our movement which is best positioned to defeat Trump," he says. "We can not beat Trump with the same old, same old kind of politics.
Sanders also said he brings a new brand of politics to the table.
"What we need is a new politics that brings working class people into our political movement, which brings young people into our political movement, which in November will create the highest voter turnout in American political history," he says.
Sanders ended his speech thanking the state of Vermont.
"I'd like to thank the great state of Vermont and all of the people in the state," he says. "Not only for the victory you gave our movement tonight, but for the years and years of love and support you've given me and my family."
The crowd erupted into cheers.
"Vermont, from the bottom of our hearts, thank you all very much," he says. "Let's go on to the White House."
The crowd chants the senator's name as he leaves the stage.
Leave a Comment