COVID-19 at UVM: Despite new cases among students, overall positivity rate remains low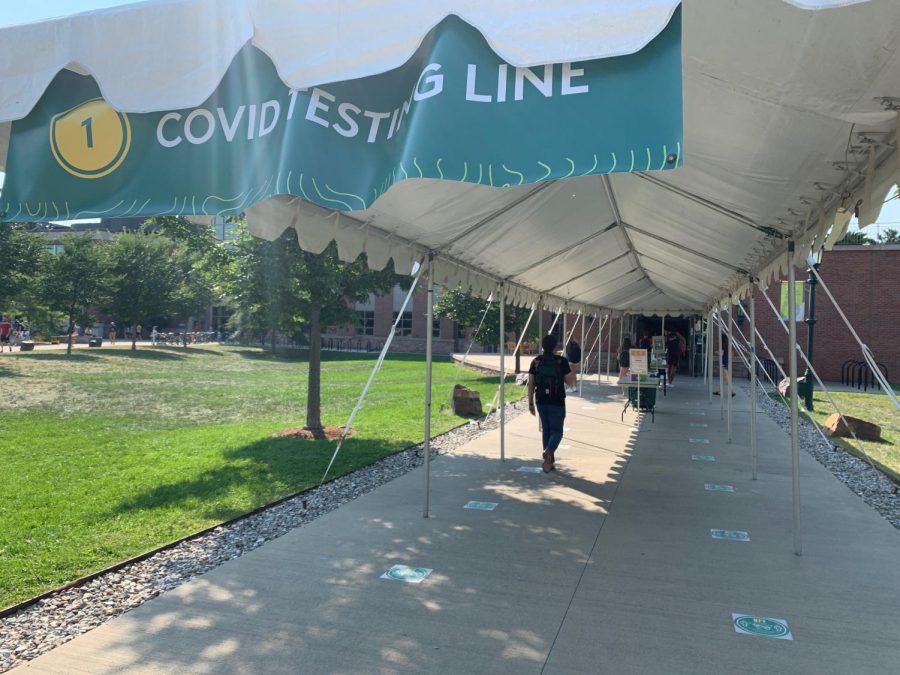 Sept. 17, 2020:
Two on-campus and two off-campus students tested positive for COVID-19 over the last seven days, according to UVM's weekly testing report.
The report, updated just after 4 p.m. Sept. 17, showed that 9,567 students, 123 faculty and 353 staff were tested between Sept. 10 and Sept. 16.
For the third week in a row, no faculty or staff tested positive. 
Based on this data, UVM's seven-day percent positivity rate is 0.03. This comes in below the overall Vermont colleges positivity rate of .09.
However, nearly 1,500 fewer students, faculty and staff were tested this week compared to the first week of testing. 
Between Aug. 31 and Sept. 7, 11,466 test results were received, compared to this week's 10,043 and last week's 8,039.
In a Sept. 16 email to students, Gary Derr, VP for operations and public safety, reiterated the importance of testing and thanked students for "meeting their testing responsibilities." 
"We are currently working through compliance issues and notifying those not in compliance of the clear expectations and consequences, which include fines and other sanctions, including suspension," he stated.
UVM also announced Wednesday that students will be tested weekly for COVID-19 through the end of October. Originally, mandatory weekly testing was set to end Sept. 18. 
–Emma Pinezich, News and Sports Editor
Sept. 10, 2020:
Results from UVM's second COVID-19 testing cycle indicate that 3,427 fewer students were tested this week than last, despite University requirement that all students get tested weekly.
One more on-campus student and two more off-campus students have tested positive this week for COVID-19. No faculty or staff have tested positive for the virus since Aug. 7, according to the report. 
Last week, three off-campus students and seven on-campus students tested positive for COVID-19.
UVM's Return too Campus website was updated as of 4:17 p.m. Sept. 10. The report shows that 8,039 test results were received between Sept. 3 to Sept. 9. Last week, 11,466 were received. 
According to UVM's Center for Student Conduct website, students are fined $250 if they miss their test once, and face suspension if they miss their test twice.
98 more pre-arrival tests were received since Sept. 2, none of which were positive. In total, 9,799 pre-arrival tests have been received. 
Overall, 12 students have tested positive for COVID-19 since Aug. 7.
-Irene Choi, Assistant News Editor
Sept. 3, 2020:
Only four days into the first semester, seven students on UVM's campus and three off-campus students have tested positive this week for COVID-19. 
Based on numbers released once a week, from Aug. 27 through Sept. 2, UVM reported that 10 students tested positive while no faculty that were positive. During this weekly testing cycle 11,466 students were tested. 
During the last testing period, Aug. 19 through Aug. 26, zero students tested positive, but only 1,225 students were tested. 
Since Aug. 7, eight on-campus residential students and four off-campus students have tested positive in total. According to the report, zero faculty or staff have tested positive. 
According to the website, of the 9,701 student pre-arrival tests, eight were positive.
However, at a press conference yesterday with Burlington Mayor Miro Weinberger, Brian Lowe, Burlington's Chief Innovation Officer, said that 9,855 Vault COVID-19 tests were administered to students with eight positives, a discrepancy of 154 tests. 
Although the Return to Campus website was updated with the new numbers as of 8:18 p.m. Thursday, students were not notified via e-mail of the update on the number of students tested and positive cases.
-Irene Choi, Assistant News Editor