Top picks from the Cynic's News Editor: 2020-2021 headlines you may have missed
Following an unprecedented year of hardships for students and updates in the news cycle, some may not have followed the many newsworthy events that have occurred on campus. 
This year's News and Sports Editor, Ella Ruehsen, assembled a roundup of ten Cynic stories she found most newsworthy from the 2020-2021 school year. The Cynic encourages anyone who wants to take a look back at a historic year of UVM news to check out the following articles. 
10 major headlines you may have missed 
1. In a historic vote, UVM board of trustees unanimously decides to divest from fossil fuels, July 14, 2020. Story by Irene Choi and Kate Vanni.
2. Hispanic Heritage Month Flag flies again, ending student employee strike, Sept. 29, 2020. Story by Emma Pinezich. 
3. Students demand change amid claims that UVM Athletics mishandled sexual assault investigation, Oct. 13, 2020. Story by Hayley Rosen and Emma Pinezich. 
4. Inside COVID Isolation at UVM: reporter recounts surreal stay with no masks and limited supervision, Feb. 23, 2021. Story by Ella Ruehsen.   
5. 'I'm going to miss this:' Three cut lecturers reflect on time at UVM, March 8, 2021. Story by Sabine Foerg. 
6. Students call for professor to resign over his video claiming white discrimination, March 15, 2021. Story by Kate Vanni. 
7. Thousands call on UVM to reform handling of sexual violence, May 4, 2021. Story by Ella Ruehsen. ​
8. Eugenics at UVM: Why Abenaki leaders feel the apology wasn't enough, May 10, 2021. Story by Nicole Hardy. 
9. Budget model adopted for transparent financial redistribution now being blamed for CAS deficit, May 13, 2021. Story by Sabine Foerg. 
10. Through the eyes of survivors: The systemic mishandling of sexual violence at UVM, May 21, 2021. Story by Nicole Hardy and Ella Ruehsen.  
About the Writer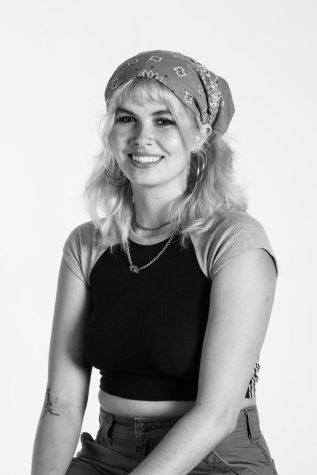 Ella Ruehsen, Editor-in-Chief
​(She/her) Ella Ruehsen is a senior environmental studies major with minors in political science and reporting and documentary storytelling. Before becoming...